Lena Dunham Thinks 'Vogue' Cover Controversy Is Ridiculous — She's Right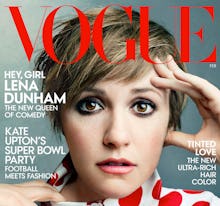 Lena Dunham landed the cover of Vogue! Isn't that great? Well, only kind of. Like every other photo that graces the pages of Vogue, Dunham's pics were all photoshopped. And Jezebel got so outraged that they offered a $10,000 bounty for the un-retouched images from Dunham's Vogue cover shoot.
"This is great! This will really help advance feminism," said no one.
Image Credit: Vogue
This isn't the first time Jezebel has gone after Vogue for the magazine's aggressive photoshopping of celebrities like Gwyneth Paltrow, Adele and Claire Danes. Nor, as the Wire points out, is it the first time Jezebel has offered such a bounty. But according to the site's editor Jessica Coen, this time is different: "This is what Vogue does — and yes, we already know in general what all of these magazines do — but now, on its cover, Vogue has a woman who rightfully declares that her appearance, with all of its perceived imperfections, shouldn't be hidden and doesn't need any fixing."
In her post, Coen argues that this isn't about shaming Dunham, it's about shaming Vogue. Coen rightfully points out that we can see Dunham's near-naked body almost every Sunday on Girls or all over the Internet. But then what point is Jezebel actually trying to make?
Dunham herself loves the pictorial.
She recently responded to the backlash by tweeting:
While Jezebel may have a point in that photoshopping someone who's so openly secure about her body is somewhat of an insult, that same point could be made about almost any woman who has been on the cover of a magazine. Jezebel knows that Dunham is a public figure who has been criticized and scrutinized about her weight and body many times over. Dunham's pics were photoshopped, but not more so than most other celebrities in Vogue. If Dunham had been egregiously photoshopped, that would be a different story. But that's simply not the case: She was digitally treated like any other celebrity.
What would Jezebel have preferred for Dunham's Vogue cover shoot? A series of pictures taken with a iPhone and filtered through Instagram of Lena sitting around in her pajamas, eating junkfood and not working out ... because that's what Lena's really like? Jezebel thinks they're defending women here, but if anything, they're just being straight-up mean. As Juno writer Diablo Cody said on Twitter: "This is total mean-girl shit masquerading as feminism. I'm disgusted."