One Of the Most Powerful Politicians in America Now Supports Marijuana Legalization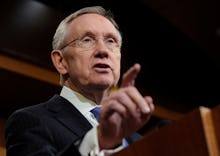 The news: Is 2014 to be the year of marijuana? After Colorado didn't burst into flames when it officially legalized marijuana, states including New York and New Hampshire have been making major moves towards relaxing laws on marijuana, and it seems Nevada might have just joined the conversation.  
Despite a rise in several of his state's municipalities issuing moratoriums on medical marijuana dispensaries, Senate Majority Leader Harry Reid (D-Nev.) believes his state should be taking major steps towards legalizing medical marijuana.
"If you'd asked me this question a dozen years ago, it would have been easy to answer – I would have said no, because [marijuana] leads to other stuff," Reid recently told the Las Vegas Sun. "But I can't say that anymore. I think we need to take a real close look at this. I think that there's some medical reasons for marijuana."
Wasting time on enforcement: Although Nevada voters approved Question 9 in 2000 for the state's constitution to recognize the use of medical marijuana, several municipalities including Las Vegas, Henderson, and Yerington have stopped the approval of applications, permits and licencing for medical marijuana dispensaries.
Currently in Nevada, permit holders may posses one ounce of usable marijuana and seven plants (three mature, four immature). But citing CNN and NPR reports and personal stories, Reid argued that the medicinal positives that come from marijuana use are prevalent enough that they deserve serious consideration and thought. 
When asked about recreational use, Reid stressed that his thoughts pertained only to medical use. "I don't know about that," he said. "I just think that we need to look at the medical aspects of it."
"I guarantee you one thing," Reid added. "We waste a lot of time and law enforcement going after these guys that are smoking marijuana."
The marijuana tidal wave continues: As it stands now, smoking weed is legally possible in 20 U.S. states and the District of Columbia. Two of those states have just legalized recreational marijuana use. As more states and more powerful names in state and federal politics evolve their views on the issue, it seems that the country is getting continuously closer to a more accepting stance on marijuana usage, especially for its noted medical benefits.
But because marijuana is still classified as a Schedule I drug — along with heroin, LSD, ecstasy, Quaaludes and peyote — many politicians and state legislatures are still hesitant to make any serious moves on the issue. Although a medical marijuana bill was introduced in the Pennsylvania state senate this week, Governor Tom Corbett (R) has said he will refuse to sign any such bill until the drug is officially approved for medicinal uses by the FDA.