16 Mouth-Watering GIFs Show the Epic Process of How Sriracha is Made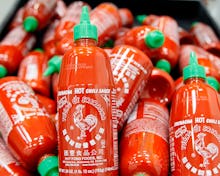 Sriracha. Chile sauce. Rooster sauce. Whatever you call it, you know it and you love it.
The iconic Asian hot sauce of sun-rippened chiles, garlic and sugar has only grown in popularity since Huy Fong Foods started making it in 1980. Although the company has never advertised, sales have always been steady and Huy Fong Foods sees at least a 20% increase in business every year. 
Inventor David Tran created his own version of the spicy red jalapeño Si Racha which is ubiquitous in Thailand. Tran started by selling the sauce out of his van and launched Huy Fong Foods, named after the ship that brought him to America. 
To learn more about this delicious condiment, filmmaker and Sriracha super-fan Griffin Hammond launched a Kickstarter campaign to create a documentary about the sauce and America's obsession with it. Although Hammond was looking for just $5,000, he easily surpassed this and hit $21,009 in 30 days. Last month, Sriracha: A Documentary was launched online and is available for purchase for just $5. 
Check out the trailer and then dive into these 16 awesome GIFs that show the basics of how the hot sauce is made.
1.
A farm in Camarillo, Cali. grows all of the chiles used to make Sriracha. Huy Fong Foods only buys from Underwood Ranches.
2.
Although the chiles are all hand-picked by workers, machines are used to handle and sort the 48,000 tons of peppers grown every year. 
3.
For scale, growing this amount of peppers would require a field about the size of Lower Manhattan. 
4.
After they've been sorted, a conveyor belt lifts the peppers into a semi-truck — about 30 truckloads of peppers are sent from Underwood Ranches to Huy Fong Foods daily. 
5.
Upon arrival, the chiles are dumped out of the trucks and processing begins. 
6.
Piles and piles of red chiles are funneled into the factory's system.
7.
First, the chiles are washed to remove any dirt or chemicals.
8.
Then they enter the grinder to get mashed into a pulp ... a delicious, delicious pulp.
9.
After that, industrial blue barrels hold the mash before it's prepared for cooking.
10.
The chile-pulp is combined with the sauce's other ingredients, including garlic and sugar. It's then cooked while being churned. 
11.
Then there's the packaging. Huy Fong Food's factory can produce about 180,000 bottles every day — all on one line. 
12.
The famous rooster bottles are then pumped full of delicious chile sauce. 
13.
Finally, factory machines produce and apply to the iconic green top. 
14.
Workers then fill shipping boxes with 12 bottles and prepare them for shipment. 
15.
Although Huy Fong Foods does not advertise, sales have always been steady. Part of this comes from Tran's commitment to maintaining a low price point. 
16.
And then we take the sriracha and put it on pretty much everything. 
All GIFs via Sriracha: A Documentary