'The Bachelor' Star Has Sent ABC Into DEFCON 1. Here's What He Said About Gay People.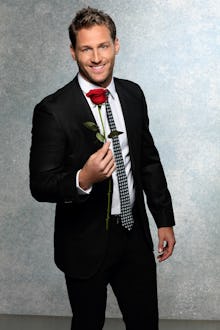 When the 18th season of The Bachelor premiered, some fans were delighted to see that, for the first time in the show's 11-year history, the lucky man, Juan Pablo Galavis, was a person of color, a Latino. It seemed like the show was making strides away from the typical hunky white dude and becoming more open ... but not everyone thinks that's such a good idea, including Galavis himself.
At a network party on Friday night, when asked about the potential of a gay Bachelor season, Galavis was quickly against it. "No ... I respect [gay people] but, honestly, I don't think it's a good example for kids," he told a reporter. 
That would have been enough, but Galavis kept going — although not before pointing out that he "has many gay friends and co-workers."
"There's this thing about gay people ... it seems to me, and I don't know if I'm mistaken or not ... but they're more 'pervert' in a sense," he continued. "And to me the show would be too strong ... too hard to watch."
You can listen to the entire interview here:
Then on Saturday, Galavis must have woken up and realized what he'd said (or at least talked to any half-competent publicist) and released an apology statement on his Facebook page:
"People,
I've added the bold to highlight a few specific things he said. First, how often have you heard someone claim that they're comment was taken "out of context." If you actually listen to the interview, you won't hear, as Galavis claims, "nothing but respect for Gay people," but simply the exact lines that have been reported. TV Page's Sean Daly, the reporter interviewing Galavis, didn't use any special trickery to confuse Galavis or catch him in a "gotcha" moment — so that's just kind of bullshit.
Second, so am I really supposed to believe that his English skills are strong enough to land him a spot on The Bachelor, but not strong enough that he confused the word "pervert" with someone who is "more affectionate and intense ... [and] would be too racy to accept"? Because, you know, that's practically the second definition of "pervert."
ABC was quick to release the following statement:
"Juan Pablo's comments were careless, thoughtless and insensitive, and in no way reflect the views of the network, the show's producers or studio."