This One Paragraph in a Senate Bill Might Commit Us to War With Iran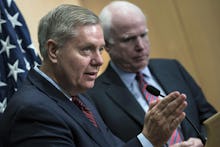 Here we go again. Just as world powers start to close the gap of mistrust between themselves and their Iranian counterparts about Iran's nuclear program, the U.S. Senate decides to ramp up the pressure on Iran by trying to push through harmful legislation meant to get even tougher with its Persian adversary should the deal crumble.
But unless you've been hiding in a uranium mine for the last 20 years, you know that this is nothing more than a sacrificial offering by American lawmakers to appease their almighty pro-Israel donors.
As of now, the Nuclear Weapon Free Iran Act of 2013 has 58 total sponsors, with 26 original endorsements. While President Obama has promised to veto the bill should he get his hands on it, securing 67 votes would absolve it from crossing his chopping block.
In an exercise of due diligence, one must actually read the bill that the Senate has put forth that has received a troubling amount of support. This paragraph would raise an eyebrow of even an untrained eye given the lies hidden within the prose:
"If the Government of Israel is compelled to take military action in legitimate self-defense against Iran's nuclear weapon program, the United States Government should stand with Israel and provide, in accordance with the law of the United States and the constitutional responsibility of Congress to authorize the use of military force, diplomatic, military, and economic support to the Government of Israel in its defense of its territory, people, and existence."
Why, one may ask, is such a staunchly pro-Israel (or pro-any other country with no real consequences for U.S. national security) line item placed within a bill like this? Well, because of money, and lots of it. One need only go so far as a couple of simple tables that show campaign contributions from pro-Israel donors to see the correlation, thanks to the persistent folks over at Open Secrets.
You're looking at a list of the senators who received campaign contributions thus far from Israel lobby donors for the 2014 election cycle. Now, here's a list of the senators sponsoring the Nuclear Weapon Free Iran Act of 2013:
1. Mark Kirk (R-Ill.)
2. Lindsey Graham (R-S.C.)
3. Chris Coons (D-Del.)
4. Mark Begich (D-Alaska)
5. Mark Pryor (D-Ark.)
6. Susan Collins (R-Maine)
7. Mary Landrieu (D-La.)
8. Pat Roberts (R-Kan.)
9. Kay Hagan (D-N.C.)
10. Ted Cruz (R-Texas)
11. Kelly Ayotte (R-N.H.)
12. John Cornyn (R-Texas)
13. Mark Warner (D-Va.)
14. Joe Donnelly (D-Ind.)
That list alone accounts for 14 of the bill's 26 sponsors, but it isn't the end of the story. Take a look at the senators who received lobby funding in 2012:
And those who also sponsored the bill:
15. Robert Menendez (D-N.J.)
16. Ben Cardin (D-Md.)
17. Bob Casey (D-Penn.)
18. Bob Corker (R-Tenn.)
19. Kirsten Gillibrand (D-N.Y.)
20. Chuck Schumer (D-N.Y.)
21. Marco Rubio (R-Fla.)
22. Richard Blumenthal (D-Conn.)
The remaining four senators who sponsored the bill are John McCain (R-Ariz.), Roy Blunt (R-Mo.), Jerry Moran (R-Kan.) and Mike Johanns (R-Neb.).
Blunt is a well-known supporter of Israel. He has spoken at the far-right leaning America Israel Public Affairs Committee's (AIPAC) annual conference, sponsored a bill that sought to allow Israelis to enter the U.S. without a visa, but that would still allow Israel to discriminate against Arab or Muslim Americans entering their country, and has always been a bit of a hawk on the Iran issue.
Moran has taken lobby money that went towards funding a trip to Israel in 2008 that cost the American Israel Education Foundation (AIEF) a whopping $28,121 dollars. Here is his rhetoric-laced itinerary that shows Donnelly as a fellow traveler. AIEF sponsored his trip because, "As a member of Congress, Rep. Moran [sic] votes on any number of pieces of legislation directly affecting the U.S.-Israel relationship and the region more broadly." It seems that AIEF's money has been well spent.
Johanns, when determining whether or not he would vote for former Sen. Chuck Hagel (R-Neb.) for Secretary of Defense, said:
"On a very personal level, this is my friend, a guy who stuck up for me when it was more than appreciated, and that's something I'll never forget. But I want to make sure the secretary of defense is standing side by side with Israel. I view Hamas and Hezbollah as terrorist organizations. I see Iran (as a nation) that talks about wiping Israel off the face of the earth."
Apparently Johanns is far more interested in Israel's national security than his own country's.
Which leaves us with John McCain. The laundry list of pro-Israel statements, votes and other support McCain has provided Israel and the lobby here in America need no historical recount, especially when one mulls over the slippery ways in which he is using this bill to defame his Democratic Party adversaries for November's election.
On the issue of President Obama and Sen. Harry Reid's (D-Nev.) push against the bill, McCain said, "We'll just have to ratchet up the pressure, that's all ... there are a lot of other forces out there that are pushing in the other direction, so we'll see how they react." On the insistence of Reid to block the bill, McCain said, "We'll see what happens — whether the pressure builds, how active some of these constituencies are, particularly in states with large pro-Israel populations." 
McCain is clearly intent on using the lobby and its supporters to pressure Reid to stop blocking the bill. But even if Reid doesn't give in to pressure, McCain seems to think he can out Reid and other like-minded senators as being weak on Israel, therefore subjecting them to the wrath of the lobby come election time.
Not only is this bill dangerous for the already fragile agreement with Iran on the nuclear issue, but it is being used to blackmail U.S. lawmakers into supporting Israel before weighing the interests of their own country. 
This is just another shining example of how the Israel lobby's more conservative membership is undermining U.S. foreign policy by waving its giant fistful of dollars in the direction of Capitol Hill, and reminding lawmakers that representing Israel quite literally carries more consequences than representing those they were elected to serve.