Turns Out the U.S. and Britain Aren't the Most Devoted 'Sherlock' Fans After All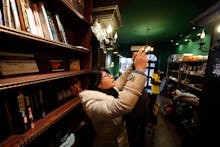 Last night, the BBC's hit crime series Sherlock premiered its third season in the U.S. Devoted fans had been pining for the return of their favorite high-functioning sociopath for a solid two years at this point. It might have been easy to forget why you loved the show after a hiatus that long, but rest assured — Sherlock was worth the wait.
Surprisingly, many of the most hardcore Sherlock fans don't live in the U.S. or the U.K. The show has inspired many a devotee and Cumberbatch fangirl in, of all places, China. Because it airs online (via the video website Youku.com), it's not subject to the same strict censorship laws typical of Chinese state TV. As one Chinese writer of TV crime dramas told the AP, "The whole drama has the rich scent of British culture and nobility. Our drama doesn't have that."
The premiere of season 3 was viewed 5 million times within 24 hours of its appearance on Youku. After two weeks, 14.5 million people had watched the episode, versus 8 to 9 million in Britain. The country's Sherlock fervor is further evidenced by online fanclubs with thousands of members and a robust fan fiction trend (which, as in the U.S., sometimes features Sherlock and John as a gay couple). Even China's Communist Party newspaper People's Daily praised the premiere, writing of the episode: "Tense plot, bizarre story, exquisite production, excellent performances." (Yes, yes and yes.)
But perhaps the strongest manifestation of Sherlock love can be seen in the opening of a Sherlock-themed cafe in Shanghai by an unidentified entrepreneur.
China's 'Sherlock' cafe. Image credit: AP via Fox 43
Behold the mark of true fandom. The cafe comes complete with:
1. Sherlock addresses
Image credit: Tumblr via Cumberkidschina
The cafe is called '221b Baker St.' in reference to the address of Sherlock's apartment.
2. Sherlock silhouettes
Image credit: Tumblr via Cumberkidschina
Sherlock's profile, complete with the character's signature deerstalker cap, beckons on a sign outside of the cafe.
3. Sherlock wallpaper
Image credit: Tumblr via Cumberkidschina
The recognizable wallpaper of 221b (incidentally now available in legging form) makes an appearance, though we can't tell if a smiley face has yet been spray-painted over it. You can also spot Sherlock's violin and a very British-looking chair.
4. Sherlock World War II motivational posters
Image credit: Tumblr via Cumberkidschina
One 24-year-old resident of Tianjin commented, "I am always super excited to see [Cumberbatch] on the screen and murmur, 'Wow, so beautiful' every single time.'" So should we all.
5. Sherlock toys
Image credit: Tumblr via Cumberkidschina
Holmes' Chinese name is Fuermosi. That, along with Benedict Cumberbatch's curls, has earned the detective the nickname "Curly Fu." John Watson is Huasheng, which apparently sounds like "peanut" in Mandarin (actor Martin Freeman stands at 5 feet 6 inches).
The Sherlock doll here is seen wearing his skull friend on his head, recalling his exchange with John is the series' very first episode: "So why are you talking to me?" ... "Mrs. Hudson took my skull."
6. Sherlock headshots
Image credit: Tumblr via Cumberkidschina
A plaque for The Hobbit sits above Cumberbatch's headshot; Freeman plays Bilbo in the films and Cumberbatch voiced the dragon Smaug in the most recent installment.
7. Sherlock case books
Image credit: Tumblr via Cumberkidschina
A nod to Bluebell, "the vanishing luminous rabbit" from season 2's "The Hounds of Baskerville." (This episode was also our first introduction to the Mind Palace.)
8. Sherlock fans
Image credit: Tumblr via Cumberkidschina
Fans reportedly have written to British Prime Minister David Cameron in online comments, saying, "Thank you for Sherlock."