World's 85 Richest People Have As Much Wealth As the 3.5 Billion Poorest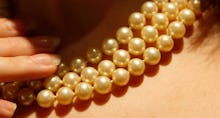 It's that wonderful time of the year, when the richest and most powerful people in the world ascend to Davos, Switzerland for the annual World Economic Forum (WEF). Over 2,500 political leaders, corporate giants, academics, philanthropists, journalists, financiers and business consultants — who pay up to $250,000 to attend — are meeting this week to discuss issues they likely never have to face.
Globally, intense wealth disparity is driven by just the kind of thing that the WEF represents: agenda-setting by the world's elite. Oxfam relesed a report Monday stating that 85 of the richest people in the world control as much wealth as the poorest half of the world, and that the rules bend in their favor because they make them.
The United Nations of wealth gathering at the exclusive, invitation-only ski resort includes everyone from Prime Ministers David Cameron and Benjamin Netanyahu to Douglas McMillon, CEO of Walmart and Lloyd Blankfein, chairman and CEO of Goldman Sachs.
Image credit: AP
Interestingly enough, this year's WEF theme is "The Reshaping of the World," and the conference is centered on social change and progress. "Profound political, economic, social and, above all, technological forces are transforming our lives, communities and institutions. Rapidly crossing geographic, gender and generational boundaries, they are shifting power from traditional hierarchies to networked hierarchies," reads WEF's welcome message.
But in spite of the conference's lofty goals, the attendees are overwhelmingly homogeneous and entrenched in "traditional hierarchies." This group, which comes together to develop a world agenda, is mostly comprised of affluent males. As CNN shows in the graph below, the average amount of money that a delegate will spend at Davos this week alone amounts to $40,000 — roughly the average amount an American will make in a year:
Davos has a serious gender problem as well. Gender parity has been so blatant at the conference that four years ago, WEF announced that corporate delegations could bring an extra delegate, but only if they were women. Despite these efforts, female delegates comprise only 16% of attendees.
But a major issue for discussion at Davos will be the ongoing global struggle for income equality. It seems ridiculous for the world's elite to find a solution, given that the the delegates who are actually attending the conference — bankers, corporate heads and policymakers — could be held responsible for most of these issues.
As the Huffington Post points out, many of the conference's official partners and delegations "have criminal records, are under investigation for potential criminal activity (e.g. bribery), are mired in significant legal/ethical issues, or have blatant conflicts of interest while setting the agenda for a supposedly 'non-partisan' event." Partners such as J.P. Morgan, HSBC, UBS and Johnson & Johnson have paid billions in fines for criminal charges, yet are allowed to discuss how they can help close the income gap.
But WEF seems to have little awareness when it comes to recognizing the roots of the problems it wants to address. According to its own Global Risk Report released last week, "The failure of global governance emerges as a central risk that is connected to many different issues ... The decline of trust in institutions, lack of leadership, persisting gender inequalities and data mismanagement were among trends to watch." It fails to note that many of its business partners are responsible for this "decline in trust."
It's not hard to be cynical about the entire concept: The world's elite are meeting on top of the highest city in Europe, schmoozing, shoulder-rubbing and spending $45 million in just one week — all to help the world's poor escape the circumstances the WEF attendees will likely never experience.