Cate Blanchett Calls Out Red Carpet Camera, Asking "Do You Do This To the Guys?"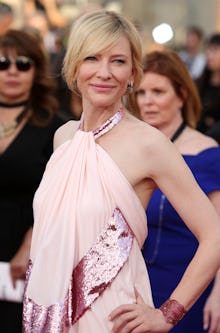 Cate Blanchett called out the red carpet camera for scanning her up and down at the SAG Awards on Friday, crouching down and saying "Do you do that to the guys?"
Image Credit: Matt's GIFs
The incident was captured during Blanchett's interview with E! News' Giuliana Rancic. While it's understandable that the network would want to give viewers a complete look at Blanchett's stunning Givenchy gown  — the camera is dubbed the Glam Cam after all — Blanchett's reaction shows yet another subtle moment of sexism that even the most successful women have to deal with. (Blanchett has received three SAG Awards, including the one she won on Friday, three Golden Globe Awards, two BAFTAs and an Academy Award.)
This isn't the first time Blanchett has stood up for women. While promoting Blue Jasmine in London this September, Blanchett identified herself as a feminist. "I'm reading a book by [Australian feminist writer] Anne Summers called The Misogyny Factor, and I feel that all of the steps forward that we've made ... a lot of those have been rescinded," she said. "Conservatism is affecting the way women perceive who they are in the world."
Blanchett also has previously commented on the treatment of women by the media. When asked about Julia Gillard, Australia's first woman prime minister, who claimed she had been "the subject of a very sexist smear campaign," Blanchett said, "Whether you admire her as a politician or not, as a woman and out of respect for the office of the prime minister, how she was treated was quite shocking." We're clearly not immune to the same treatment in the U.S. Amongst countless examples is this month's TIME magazine cover of a well-heeled, pant-suit wearing lady foot squashing a miniature man; the cover's headline: "Can Anyone Stop Hillary?"
And yes, actresses are not politicians. But Blanchett's call out is one step closer to curbing the harsh lens our media puts on women.