Scarlett Johansson Should Win an Oscar, But Not For Acting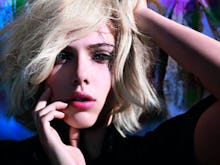 Scarlett Johansson is undeniably beautiful, but this year it was her voice that blew us away. Her representation of the sexy Siri in Her led us to reassess our relationship with technology and somehow managed to keep us from laughing at the strange premise of the film. And although the bizarre love story received acclaim from critics and viewers alike, it didn't land Johansson an Oscar nomination. Nor have any of her films … ever.
But for the second year in a row, she's performed one of the Best Original Song candidates, of all things. She isn't the official nominee (she didn't write the songs), but it's her voice that sold us one of last year's best and one of this year's most competitive nominees.
The 29-year-old actress has actually never been recognized for her acting performances at the Academy Awards. She wasn't nominated for transcending our view of sensuality with her tone and inflections in Match Point. Nor was she recognized for her sultry and famous performance opposite of Bill Murray in Lost in Translation. Though she hasn't been officially nominated for either song that's taken her to the Oscars, she's been the chief performer on both. Seeing as her greatest acting achievement to date was as a voice in Her, we might suggest a slight career redirection.
When Johansson paired her vocals with J. Ralph's track "Before My Time," it secured a spot in the Best Original Song category at the 2013 Academy Awards. It was a beautiful and aching performance well-deserving of the high award (though it lost to "Skyfall"). This year, "The Moon Song" from Her has entered the Best Original Song race. Though she didn't write the song (that would be Karen O from the Yeah Yeah Yeahs), she sings the film version with Joaquin Phoenix (who, despite depicting Johnny Cash in his Oscar-nominated performance, sings horribly). Karen O's version is a little less twee, and slightly stranger:
"Before My Time," which was featured in the climate documentary Chasing Ice, is heartwarming and tender. The softness and sincerity of her vocals truly captures the gravity of the documentary about climate change and glacial melt:
So why is it that we know her so well as the sex-symbol ingenue when she's arguably more talented as a musician? That may not be the case for much longer. With her performance of one of the more beautiful Best Songs last year and her involvement in this year's, she's making a name for herself outside of acting. It seems that she's focusing on other creative outlets than just music, too. In a recent interview, Johansson admitted, ''I want to get into directing and I will at some point. I already bought the rights to some books. I'm in a point at my life where I'm sure of my choices and I'm interested in so many different things. I love art and galleries and music.''
If the Oscars don't see fit to recognize her acting, she's still finding surprising sucess in her music career. Her first album may have received pretty mixed reviews, but as far as movie music goes, she's making a pretty clean sweep.
With the Yeah Yeah Yeahs behind her, how could she not?