Kristen Wiig and Bill Hader Get Serious in Sundance's Most Buzzworthy Movie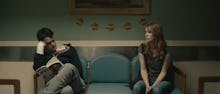 Kristen Wiig, Bill Hader, Ty Burrell and Luke Wilson? Already sounds like a winner to me. These four star in what's already becoming one of the most talked about films of this year's Sundance Film Festival: The Skeleton Twins.
The film is the story of how twins Maggie (Wiig) and Milo (Hader) reconnect after they both cheat death on the same day, reevaluating their lives and realizing that although they're living on opposite sides of the country, they need each other more than ever. There's no trailer yet, but check out this video of Johnson talking it up on the Sundance Film Festival's Youtube channel. 
I know what you're thinking: sounds kind of heavy for these kinds of actors. But even though The Skeleton Twins is a drama, director and co-writer Craig Johnson admitted that having a cast like this and no room for laughs would have been a mistake. As such the film pokes fun at the classic dysfunctional family, but in an invigorated way that's more fresh, honest and exciting than what has come before. 
The Skeleton Twins will see the long-awaited (?) reunion of former fellow SNL cast members Wiig and Hader in the lead roles. Although Wiig has already demonstrated her ability to carry a movie in Bridesmaids, Hader's post-SNL career has mostly consisted of occasional television spots, voice roles and those dope T-Mobile commercials. But Hader's performance is already being lauded as the one that could transform him into "a major screen actor."