Kentucky Lawmaker Wants To Ban Abortion Because It's "Domestic Violence"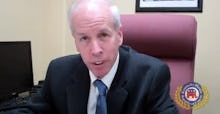 Americans are no strangers to politicians using underhanded tactics to pass bills, especially when it comes to abortion. This past summer in Texas, Governor Rick Perry (R) called a special session to revive the previously defeated measure on wide-spread abortion restrictions in the state. When the vote on the restrictions failed again due to a filibuster by Texas State Sen. Wendy Davis (D-Ft. Worth), Perry called a second special session. 
In all, last summer's legislative proceedings cost Texas taxpayers $1.6 million. And in the end, Perry got his way.
Now, Kentucky lawmakers are gaining national attention as the state attempts to pass an extension to current domestic violence laws, which as of now, only protect victims who are married or living with their abuser. The extension is heavily supported by Democrats in the state and is likely to pass.
Not to be outdone, Kentucky State Rep. Joe Fischer (R-Ft. Thomas) added an amendment to the extension that bans abortions after 20 weeks. He claimed, "The most brutal form of domestic violence is the violence against the unborn."
The amendment, however, relies on debunked science concerning fetal pain at 20 weeks. According to the British Royal College of Obstetricians and Gynaecologists, "The fetus cannot feel pain before 24 weeks because the connections in the fetal brain are not fully formed; Evidence examined by the Working Party showed that the fetus, while in the chemical environment of the womb, is in a state of induced sleep and is unconscious; and, because the 24-week-old fetus has no awareness nor can it feel pain."
Thankfully, Kentucky House Speaker Greg Stumbo (D-Prestonsburg) said that he is likely to rule Fischer's amendment germane to the original legislation.
However, concerns about Republicans in the state regaining control of Kentucky's house in November are growing. 
"Every year we come within a hair's breadth of awful stuff," says Derek Selznick, director of the Reproductive Freedom Project at the ACLU of Kentucky. "I never feel good until [anti-choice bills] actually die." 
Regarding Fischer's tactic for enforcing an abortion ban past 20 weeks in the state, Selznick considers it "sad."
"It's pushing a political agenda and ignores the daily realities that thousands of Kentucky women and men face trying to get protective orders from the court system," he said.