As the Annual Dolphin Hunt Ends in Japan, Anonymous Starts Its Counter Attack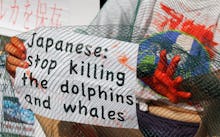 The annual slaughter in Japan's Taiji cove is over, but the international anger over the capturing or killing of 500 migrating dolphins continues to boil over. 
As part of the response, Anonymous launched #OpKillingBay to take down a slew of websites, they're claiming 1,559 in all, with a connection to the dolphin hunt. At least for a time, one of the hacked sites appeared to include Sea World itself.
Sea World was at the center of one of the most talked-about documentaries of the year, Blackfish, which took a deep look at the conditions at Sea World and practice of treating animals like a 'Killer Whale' in ways that could only be considered abusive. And right now, the movie and the values it expresses are more relevant than ever.
According to CNN, the annual slaughter in Japan's Taiji cove finished on Tuesday, and netted more dolphins than usual. Around 500 migrating dolphins were captured. One hundred of them will be sold to marine parks or killed. The rest will be released.
Activist group Sea Shepherd Conservation Society has been documenting the capture, and has directly refuted the Japanese government's assertion that it is rescuing sick or rejected dolphins from the group. It also reports that a female dolphin committed suicide after its baby was taken away.
The fishermen put up tarpaulin covers to shield the dolphins and prevent activists from taking pictures of the slaughter. The Telegraph has video of fishermen wrestling with dolphins to subdue them.
Dolphin killings are especially controversial because they are crude and take a long time. The animals are stabbed with metal rods until they drown or bleed to death. A scientific study concluded last year that this style of killing "would not be tolerated or permitted in any regulated slaughterhouse process in the developed world."
Read More: An Angel Captured In the Cove
But despite the international backlash, Taiji has shown little interest in changing its centuries-old practice. The town is planning on building a marine park where visitors can play with dolphins and whales and also sample them in local dishes. "We are not going to change our plans for the town based on the criticism of foreigners," said Taiji mayor Kazutaka Sangen.
"The hunting of whales and dolphins has been carried out since long ago and is performed on scientific grounds. I will protect this tradition," he continued.
Indeed Japan's response to international criticism has been to make dolphin killings into an issue of national sovereignty, rather than one of environmental ethics. "I believe dolphin fishing is one of Japan's traditional fishing industries and is carried out appropriately in accordance to the law," said Chief Cabinet Secretary Yoshihide Suga when asked about Kennedy's comments.
Wakayama governor Yoshinobu Nisaka similarly defended the practice against foreign influence and claimed that dolphins are a simply part of the Japanese diet. "Dietary culture varies and it is the wisdom of civilization to mutually respect other standpoints unless the world faces a lack of resources," he said.
But not only is dolphin meat controversial, it is also highly toxic. "It is reprehensible that the Taiji dolphin hunters are killing dolphins for human consumption, because all dolphin meat is toxic – up to 5,000 times more toxic than allowed by the World Health Organisation," said Louie Psihoyos, the director of The Cove. 
Psihoyos also noted that fishermen make up to $200,000 per captive dolphin, suggesting that they hunt the animals for the money, and not because they need the meat for their own consumption.
Bottlenose dolphins are not considered endangered, and are not protected by the International Whaling Commission. (The Japanese government allows over 2,000 dolphins to be killed every year.) Yet we all have a responsibility to hack a better future for them, where headlines like this one don't have to be written.