Listen While a Bicycle Is Turned Into a Mesmerizing Musical Instrument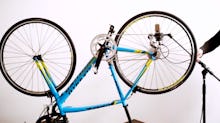 Did you ever bang on Mom's pots and pans as a kid, pretending to be a rock star drummer, center stage in front of thousands of adoring fans? At the time, it seemed like a pretty normal thing to do. But have you ever thought of banging your spoons and spatulas on something else entirely — like a bike?
In this short video, composer Johnnyrandom transforms an ordinary bicycle into an incredible musical instrument. The song, entitled "Bespoken," explores the unique and creative sounds that are naturally generated from bicycles and their various components. Made entirely without the use of musical synthesizers, samplers or drum machines, this symphony easily embodies "thinking outside the box."
Johnnyrandom drew inspiration from childhood memories of riding his own bike to compose this distinct piece, in which he tries to capture that same childlike feeling of freedom. It makes one wonder what other everyday objects could be used to substitute traditional instruments.
His work is similar to the percussion group Stomp, which takes pot-and-pan drumming to the next level. In some of their off-Broadway performances, this physical theater group have used everything from basketballs, to garbage cans and even broom sticks to create truly passionate beats.
Of course, anything can be used to make sound. Perhaps on the surface, many of these natural sounds (such as riding a bike) may not be pleasing to the ear. But with a little ingenuity and some fine-tuning, they can give birth to beautiful music. This is what groups like Stomp and songs like "Bespoken" do: They challenge the norms of music composition. In this sense, there is only one word to justly describe Johnnyrandom's creation. It is, quite simply, art.