Tennis Player Has Best Match of Her Career, Gets Asked About Her Celebrity Crush Instead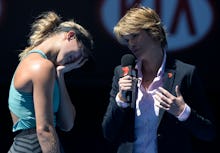 A 19-year-old Montreal native made history at the Australian Open semifinals last night, but it's the question she was asked in a post-match interview that everyone's talking about.
Eugenie Bouchard defeated 2008 French Open champion and former No. 1-ranked Ana Ivanovic, and now has the chance to become the first Canadian to ever win a Grand Slam final. What's more, she entered the match ranked 30th in the world, making her the underdog thousands of fans were rooting for. Quite simply, she destroyed her opponent in front of a crowd of 15,000 fans. And yet, immediately after the match, here's one of the questions an on-court reporter thought was most pressing during a live interview after the amazing game she played:
That's right, in spite of her remarkable performance, the reporter had to ask about Bouchard's dating life. Of course, the interview went from uncomfortable to just plain awkward after she uttered the words "Justin Bierber" (we can only assume out of sheer panic), and half the crowd started booing.
It's no wonder that a recent survey found that 7 out of 10 British female athletes feel they are more valued for their appearance than their athletic performance. Or that more than 3 out of 4 admitted to changing their diet and altering their training regimes due to the heightened scrutiny. Then there's the research which shows female endorsement deals are few and far between and often present women only in a sexualized way. In other words, athletes like Bouchard have no choice but to take questions like this in stride, if they have any chance of securing a lucrative endorsement deal to help them make a living.
Barely 2% of all of network news and coverage on ESPN's "SportsCenter" is dedicated to broadcasting female athletes. So let's make sure the very narrow exposure they do get doesn't reinforce the very stereotypes that get them so little coverage in the first place.
How do we do this? By making sure the media spends less time asking women about their crushes, and more time asking them about how they crushed their opponents. 
What do you think of Eugenie Bouchard's interview? Let me know on Twitter and Facebook.