Hunting Terrorists in Sochi — New Evidence Raises the Threat of an Olympic Terror Attack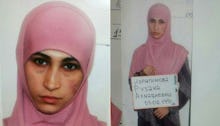 The news: A prerecorded video released on Sunday has heightened concerns that triple axels and LGBT protests won't be the only things to watch out for at this year's Sochi Olympics. The hour-long recording features two men perched before an Islamist black flag who purport to be the suicide bombers behind the deadly attacks that took place in the Russian city of Volgograd in December. The men film the construction of the explosive vests that they threaten to use, and at one point, state that the coming Olympics will include a "present" for Russian President Vladimir Putin.
While the authenticity of the video has not been confirmed, its appearance on a jihadist website has highlighted the security threats faced by the 2014 Olympics, which will begin in a mere 16 days.
Meanwhile, Russian authorities in Sochi are on the lookout for "black widows" — women who serve as vengeful suicide bombers after losing their insurgent husbands. Of the four women pictured on fliers distributed by security officials, one, Ruzana Ibramigova (shown above), has reportedly been spotted within the so-called "ring of steel" defenses surrounding the Olympic city.
The background: Russia is no stranger to terrorist attacks, as once-and-future Russian President Vladimir Putin was quick to point out in the wake of September 11, and again after last year's Boston Marathon bombing. The past five years alone have included the 2009 bombing of an express train, the 2010 bombing of the Moscow subway, the 2011 explosion at Domedovo airport, and the recent attacks in Volgograd. Which is not to mention the numerous car and suicide bombings that take place in the Caucasus, many of which have occurred within Chechnya, Dagestan, Ingushetia, and Kabardino-Balkaria, all half a day's drive of the Black Sea resort city of Sochi. 
There have been more than 1,500 such violent events in the Caucasus since 2010 alone, according to Forbes. Which is not to mention 2008's cross-border war in South Ossetia, 2004's devastating Beslan school hostage crisis or the bloodshed throughout Chechnya's fight for sovereignty in the 1990s.
While rebel groups in the region were once focused on obtaining independence from Russia, their focus has more recently turned toward establishing an Islamic caliphate and rule by sharia law. The most prominent rebel group in the region is a jihadist umbrella organization called Caucasus Emirate, which is theoretically led by Chechen rebel and self-proclaimed emir Doku Umarov — provided he's still alive, despite Russian reports to the contrary. Vilayat Dagestan, the group to which the two men in Sunday's video claim to belong, is Caucasus Emirate's Dagestani franchise.
In recent years, Caucasus Emirate has been careful to emphasize that while it may abhor Western powers, its fight is against Russia, and not, say, the United States. In 2012, the organization also called for an end to attacks on civilians. However, as recently as July, Umarov took to YouTube and asked insurgents to use "maximum force" to stop to the Sochi Olympics. Since then, the city of Volgograd has hosted three suicide bombings: one in October and two in December. Two of those attacks were carried out by Chechnya's so-called "black widows."
The takeaway: Extensive surveillance measures and security forces are being put into place for the coming Olympics, including the deployment of over 40,000 police and 30,000 members of Russia's armed forces. However, Sunday's video has raised questions regarding the Kremlin and IOC's decision to locate the games in the Caucasus to begin with, given the extended and profound instability in the region. 
Russian officials claim to have been foiling planned attacks on the games since at least 2012,. In addition to scouring Sochi for a black widow bomber (or bombers), they've also been conducting violent raids within Dagestan. While their vigilance may make a direct attack on gaming venues prohibitively difficult, bombers may be as likely to attack civilians outside of the games, or in other Russian cities entirely. And despite Russian authorities' emphasis on physical deterrents to a possible attack, guns and surveillance might be poor bulwarks against regional instability.
Perhaps most interestingly, the professed suicide bombers in Sunday's video appear to be ethnic Russians, and not Chechens or Avar, hinting that ethnic profiling alone won't be enough to secure the games, and, worse, that Umarov's organization has been able to widen its net in recruiting for its cause.