Listen: The Unlikely Woman Singing This Year's Super Bowl National Anthem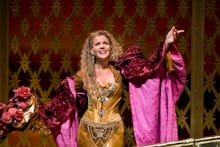 Carrie Underwood, Christina Aguilera, Kelly Clarkson, Alicia Keys and ... American opera star Renée Fleming?
In a surprise left-field choice, the NFL announced that the veteran performer will sing the national anthem at Super Bowl XLVIII on Feb. 2. It will be a Super Bowl first to have someone from the opera world. After a string of pop and country divas, the choice is certainly unpredictable — and refreshing.
For opera lovers, Fleming is the Celine Dion of lyric opera. Dubbed "the people's diva," she is a four-time Grammy winner and the recipient of the National Medal of Arts. And while she is a highly-acclaimed lyric soprano, Fleming also sings jazz, pop and indie rock — in French, German, Italian, Czech and Russian.
The Super Bowl certainly won't be her first enormous public performance either. Not only has Fleming performed at all the great opera houses and music halls in the world — including the Metropolitan Opera, Sydney Opera House, Ópera Bastille and Carnegie Hall — she has also sung at the Beijing Olympics, the 2006 Nobel Peace Prize ceremony and at the Diamond Jubilee for Queen Elizabeth II. If anyone is ready for some prime time spotlight, it's Fleming.
But don't take my word for it.
Here is a clip of her at the 2006 Nobel ceremony, singing "Vissi d'arte" from Tosca by Giacomo Puccini:
She also sang at President Barack Obama's first inauguration, performing "You'll Never Walk Alone" from the Rodgers & Hammerstein musical Carousel:
And her ethereal voice has some serious pop culture cache as well. Fleming was featured on The Lord of the Rings: The Return of the King soundtrack, singing the hauntingly beautiful "Twilight and Shadow" — in Elvish Sindarin, no less:
Not only is she an incredible singer, Fleming has a great sense of humor about the dramatic nature of opera as well. She appeared on Late Show with David Letterman last September to sing the "Top 10 Opera Lyrics" (spoiler: she pokes fun at twerking):
And here is Fleming with West End Les Misérables star Alfie Boe, singing "Somewhere" from West Side Story at the Diamond Jubilee:
So basically, Fleming is a national treasure, and if anyone can sway some drunk football fans to the world of opera, it would be her.