People Are Freaking Out Over This First Still From 'Dumb and Dumber To'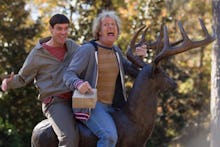 It's definitely happening. We're getting another dose of Lloyd Christmas and Harry Dunne, courtesy of the Farrelly brothers. Nearly 20 years after the original film, Jim Carrey and Jeff Daniels are back for Dumb and Dumber To, scheduled for release on Nov. 14. 
Set 20 years after their cross-country road trip to Colorado, Harry and Lloyd set out in search for one of their long lost children in hopes of getting a new kidney. Looks pretty good so far.
Image Credit: Universal via Flicks and Bits
They've barely changed.
While this is the first official still Universal has shared, it's not the first image we've gotten from the set. A few tweets from last fall have offered hints of what to expect.
On Sept. 8, 2013, Carrey tweeted a pic of Lloyd's icon chipped tooth.
And shortly after filming began on Sept. 22 2013, Daniels tweeted a hilarious pic of the two in costume on set.
The cast also includes Kathleen Turner, The Walking Dead's Laurie Holden and Brady Bluhm, who reprises his role as Billy in 4C, the blind boy who bought a headless bird from whom Harry and Lloyd.
So far, the general response hase been positive.
Hopefully it will come at least somewhere close to being as hilarious as the original. It's going to be tough, but there's a chance: