In Ironic Twist, Russia Wants Citizens to Take "Politeness Classes" Ahead of the Olympics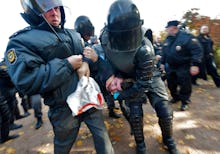 In preparation for the Winter Olympics, the Russian government is trying to turn Sochi into a city of well-spoken and well-mannered English speakers, because the one thing that all citizens who live in a repressive state need is more affability!
Since the end of last year, Sochi's City Hall has been offering courses taught by volunteers to make sure that the city's residents make a good impression on the flock of tourists coming to Olympic village as the games near. The Moscow Times reports the city's signage has become completely bilingual. Whether it's on a shop or at a bus stop, every word has been carefully translated into English — but not necessarily accurately.
"Success has varied. One of the ubiquitous cheap joints serving hearty Caucasian food seeks to lure visitors seeking refuge from the chill with the clunky promise of 'here warmly,'" the Rianovosti reports.
The city is pushing hard for residents and local businesses to follow the government-sponsored language program. "Even the city's small host of 500 senior-age volunteers took English classes. They were even more intensive than those organized for officials," according to the Rianovosti, whose reporters interviewed the head of an elderly volunteer group.
But it's not just about language. It's about changing the culture too. The city government is ensuring anyone involved with the Olympic games takes mandatory "politeness master classes." Amongst many other suggested rules of conduct, the syllabus for the course includes a warning not to refer to women as "crones." The manual also advises citizens to keep an air of "calm presence." 
Apparently, Russia's police didn't get the memo. The government can try as hard as it wants to spell signs correctly, but photos like the one below tell a very different story.
The real way for the government to make Russia more attractive and pleasant for foreigners would be to curb its human rights violations and police brutality toward gay people. Ever since President Vladimir Putin signed a draconian anti-gay law in June of last year, violent crackdowns against the LGBT community have become the norm. After Paul Lebedev, an LGBT activist, waved a rainbow flag during the passing of the Olympic torch near his home town of Voronezh (900km north of Sochi), he was immediately arrested by police (pictured above).
Even before the passage of the bill, scenes like the one below at the 2013 St. Petersburg gay pride parade were not unusual.
Before the Russian government improves citizens' behavior, it should reflect on its own. Instead of teaching its citizens about English, the government should take a basic course in human rights.
Do you think Russia's language and politeness program is hypocritical given the state's repressive anti-gay laws? Let me know on Twitter and Facebook.