Patti Smith Covered Rihanna's 'Stay' and It's Amazing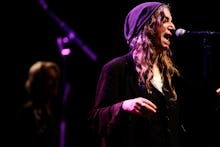 On her 67th birthday last December, Patti Smith brought Rihanna into the pantheon of greats.
During her birthday concert at Webster Hall, the singer declared Rihanna's hit "Stay" the best song of 2013 and then performed it with her keyboardist playing the part of Mikki Ekko. At one point, she forgot the words because she was nervous. And at all points, she was Patti Smith — charming, resilient and pretty damn good at singing.
This was an amazing moment for modern pop music. We often lament our inferiority to the golden age of pop and rock — Patti Smith's age — but this performance shows that there never was a golden age; just good songs at all ages. And at any moment, our greatest stars have made their names on hits written by other people, Patti Smith and Rihanna alike. Patti Smith's greatest hit, "Because the Night," was written by Bruce Springsteen, after all:
Rihanna may not have the cultural cache of Patti Smith, nor the revolutionary instincts, but she has been a vehicle for songs every bit as powerful as Smith's. She, like Smith, has performed them in the style of her age — with synthesizers rather than guitars and with Mikky Ekko rather than Bruce Springsteen — but that doesn't mean they're any less significant.
We may feel we missed out on "real" music, but it isn't so. Scenes change and so do tastes, but good songwriting remains. I defy anyone to make a compelling argument that "Stay" and "We Found Love" aren't as good as most pop hits from the last century. Their instrumentation may be contemporary, but their sentiment and composition are more or less timeless.
If anyone can vouch for that, it's Patti Smith.