The Norwegian Curling Team Has Already Won Our Hearts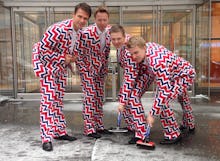 Olympic fashion is a big deal. One of the best parts of the opening ceremony is spotting the different countries' uniforms. And sometimes bad publicity — like when it was revealed that America's 2012 Ralph Lauren-designed outfits were made in China — can affect public opinion.
But in the case of the Norwegian curling team, all publicity seems to be good publicity. The team revealed its official look for the Sochi Olympics next month, and it's pretty amazing:
Everyone is eating it up. "Norway's Olympic Curling Team Gets Funky in Sochi," says ABC News. "Norway's Wild Curling Uniforms Would Make Willy Wonks Blush," alliterates Mashable. USA Today can barely contain itself: "Cancel the Olympics Because Norway's Curling Team Has Already Won." Please, don't listen to them.
The team's sharp pants even have their own Facebook page, which has garnered over 500,000 likes. And if you search for the team on Google, it's pretty much impossible to find anything that doesn't have to do with their pants. Here they are again:
According to Loudmouth, the company behind the eye-popping design, the goal was to both honor Norwegian colors and to stand out on the ice: "They needed to look good and be striking," company founder Scott Woodworth told the New York Times.
Of course, this isn't the first time that the Norwegian curling team has wowed with its style. They first shocked the world at the 2010 Vancouver Olympics, where they won the silver medal. But all anyone could talk about, again, was their snazzy pants which, in case you forgot, look like this:
According to the Times, the trend started in 2010 when Norwegian curling team member Christoffer Svae stumbled upon a pair of checkered, tricolor golf pants online and ordered a set on a lark. His teammates took some convincing, but they eventually decided just to have fun with it: "We didn't really try to prove a point or anything. It was just feeling comfortable with what we were wearing to represent our country. Obviously, it was a break from tradition," he said. These are the pants in question:
But it caught on quickly, and the team reaped some unintended benefits. Not only did they gain the kind of viral popularity that other curling teams can only dream of, but the uniforms also helped them mentally. "It kind of took the edge off everything. When our games were not going too well, we'd look at each other and think, 'Oh, you look like a clown.' So it made us feel at ease," Svae said.
Since then, the look has become the team's trademark. Here are a few of the team's choice outfits over the past few years (from Facebook):
And the Norwegian women's curling team has caught the fashion fever as well. Here they are at the 2010 Ford World Women's Curling Championship:
Other countries need to step up their fashion game. Plain black pants and polos are simply not going to cut it anymore.
And if you didn't already take curling seriously, it's time to reconsider.