The Most Inspiring Star At This Year's Super Bowl Can't Hear You Cheering For Him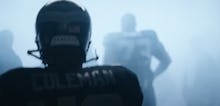 Richard Sherman has been getting all the spotlight for the Seahawks in the run-up to the Super Bowl — but there's another Seattle player who deserves your attention.
Meet Derrick Coleman, the 6-foot, 233-pound Seahawks fullback. He's now played 12 games in the 2013 season. He rushed for 1,200+ yards and 16 touchdowns in his final two seasons at UCLA. Coleman didn't get drafted, so he went through the even-tougher process of signing as a free agent with the Vikings in 2012. In his first week playing with the Seahawks in 2013, he made three catches for 30 yards.
He is also the NFL's only legally deaf player and hasn't been able to make out sounds other than deep bass without mechanical assistance since the age of 3.
"Let's say I don't have my hearing aids in and someone is talking to me, I know they're talking but I can't clarify what they're saying," Coleman told FOXSports.com. "Basically, that's what the hearing aids do, they enhance or amplify it so I can truly understand it. All I hear is like a bunch of mumbling and humming. That's what I hear."
And like Sherman, he's starred in an ultra-inspiring NFL ad. But while Sherman's sold him as an unstoppable badass, Coleman's might bring a tear to your eyes — in a good way.
"They didn't call my name. Told me it was over. But I've been deaf since I was three, so I didn't listen."
Chills.
And Coleman isn't just inspiring us. This week, he received this letter from a young deaf girl via Twitter:
How does he do it? Coleman credits his mother May Hamlin with helping him to pursue football from a young age. She secured hearing aids to the inside of his helmet using Hanes pantyhose, which let him hear his environment without feedback.
He also reads lips. "It's my way of adapting," Coleman said. "When one of your senses goes down, your others kind of help out. You pick up different habits to help and I think lip reading just came to me. When people started talking, I just look at their lips and start to read them."
Quarterback Russell Wilson will sometimes turn to him and mouth last-second play changes. Head coach Pete Carroll thinks the team and Coleman's working relationship has been so effective that it's "really not even something that we deal with."
Coaches in high school once even tried to use his lip-reading skills to steal opponents' signals. Coleman still remembers that story with a chuckle.
"It is hard 50 yards across the field. I'd done it once for having fun, freshman year in high school. Coach said, 'What are they about to run? I said, 'outside,' and he changed the whole defense and we stopped them."
"I tried do it again and it didn't work."