3 Badass Old School Stars Will Join the New Reboot Of 'Star Wars VII'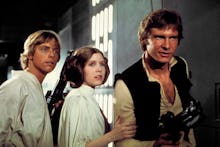 The big news: OK, prepare to either cheer in fanboy ecstasy or scream in agony.
Carrie Fisher, the original Princess Leia, has confirmed that she will be returning to the big screen with Star Wars: Episode VII with Harrison Ford as Han Solo and Mark Hamill as Luke Skywalker. And according to new director JJ Abrams (who breathed new life into Star Trek) and Empire Strikes Back screenwriter Lawerence Kasdan, the script was recently finished.
With rumors flying wild, this is one of the few confirmed things fans can know about Episode VII — and with George Lucas not at the helm only on board as a writer, perhaps Abrams can whip the original crew into making a original trilogy sequel fans can finally be proud of.
(Don't get your hopes up ...)
When: Fisher's confirmation was buried deep in an article on TV Guide about her upcoming guest appearances on FXX's Legit and CBS' Big Bang Theory, which reported "she, Harrison Ford and Mark Hamill are expected to report to work in March or April."
"I'd like to wear my old [cinnamon buns] hairstyle again — but with white hair. I think that would be funny," she told TV Guide.
Fisher has reportedly "jokingly" confirmed on two other occasions in the past few years that she would soon appear in a Star Wars movie, so maybe take this one with a grain of salt.
Still, if it's really true, it would be the first time the trio have appeared on screen together since Return of the Jedi. A long time indeed.
Mixed reactions: Fans are already fighting on Twitter about the casting choice. From the negative:
To the positive:
Personally, I side with this guy.
Can we at least get another Colt 45 ad?