African Migrants Stage Mass Protests in Israel, Go Largely Ignored in the Mainstream Media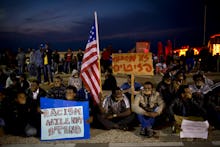 Thousands of African migrants are staging mass protests in Tel Aviv, Jerusalem and many other Israeli towns to combat the government's new law that allows illegal immigrants to be detained for a year without trial.
Many in the Israeli government, including the prime minister, see African migrants as an existential threat to Israel who do not deserve asylum status. That's not how many of the protesters feel. Unfortunately, we haven't been hearing much about it in the mainstream media.
"We left our homeland and our beloved families because of intimidation, persecution and genocide," said Filmon Rezene, 26, who says he risks death if he returns to his native Eritrea. "We are demanding that the UN Human Rights Commission and the international community intervene to stop Israel arresting asylum seekers in the street."
If you run a Google search, you'll find a few handfuls of obligatory headlines from the first week in January. However, there continues to be no ongoing coverage of the protests in larger outlets. The protesters, mostly Eritreans and Sudanese, started fighting back in early January when they staged protests in front of the Knesset's parliament. On the beaches of Tel Aviv, they chanted and held up signs that read "freedom" and "no more prison."
via AP
The African community of approximately 55,000 started moving across the border through Egypt in 2006. Most live in southern Tel Aviv, the poorest area in the city, and work in the shadows as busboys, hotel cleaners and custodians. Many migrants have fled from countries ridden with war, persecution and totalitarianism, seeking a better life in the land of milk and honey. The protesters want the government to recognize them as refugees so they can work in the country legally.
Prime Minister Benjamin Netanyahu gave a statement in which he called the population "infiltrators" who were threatening Israel's Jewish social fabric. The government also believes that African migrants came to Israel with the sole purpose of gaining work. In December, a detention center in southern Israel was established. Israeli Interior Minister Gideon Sa'ar also said, "There are tens of millions in Africa who are seeking shelter in Western countries. Because we're the only Western country with a land border with Africa, the potential danger for our country is great."
Despite resistance from the government, the international community seems to be behind the protesters' plight. The United Nations' High Commissioner for Refugees believes that Israel's policy causes "hardship and suffering" and flouts the 1951 world treaty on the treatment of refugees.
As a Jewish person who spent this past summer in Israel, I have walked though the streets of South Tel Aviv. I have spoken with girls my age about their struggles. I've realized that the government will always strive to welcome all types of ethnicities and backgrounds for a vacation on the beaches of Tel Aviv, but living there is another story.
It's time we pay more attention to the asylum seekers and not turn them away out of fear.