Watch Every Indie Movie Cliche in One Brilliant Trailer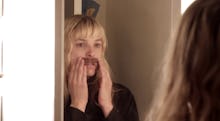 Well, it's over. Movies are over. We have officially been gifted with a parody trailer gem. From "Film student with a rich uncle and Actor trying to be a director" comes the greatest piece of cinematic spoof of our time. 
Last week TastesFunny posted their trailer of Not Another Sundance Movie, a hilarious spoof of every hipster indie movie in a deliciously compact 2:44 trailer that's going all sorts of viral. Take a look for yourself: 
Some highlights, in case you missed them:
1. Perfect celebrity and random people endorsements throughout.
They pretty much nailed it. It's the second really amazing indie parody trailer of the past few months (the first perfectly skewering Wes Anderson), and it hits all the right notes. And with the Sundance Film Festival winding and plenty of exciting movies on the list, Not Another Sundance Movie comes at the perfect time to remind us that it is possible to take "films" too seriously.