This Republican Congressman Advises Wives To "Voluntarily Submit" To Their Husbands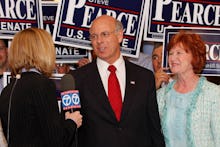 America's war on women has a new big player. The latest clash comes from Rep. Steve Pearce's (R-N.M.) new memoir Just Fly the Plane, Stupid in which he shares his thoughts on his "ideal" family structure.
In his book, Pearce recounts his service in the Vietnam War and says that like a military unit, a family must have a sense of internal order and command structure. 
"The wife is to voluntarily submit, just as the husband is to lovingly lead and sacrifice," Pearce writes, citing the Bible. "The husband's part is to show up during the times of deep stress, take the leadership role and be accountable for the outcome, blaming no one else."
Pearce goes on to repeatedly point out that "submission" (at least by his definition) is not a matter of superior and inferior, rather a discussion of different roles and that a wife's submission doesn't preclude her from having a say in family decisions.
"The wife's submission is not a matter of superior versus inferior; rather, it is self-imposed as a matter of obedience to the Lord and of love for her husband," he writes.
Pearce can try to make up new definitions of submission all he wants, but it's going to be difficult for him to make a statement like this and then argue he was using an entirely different meaning. The Twitterverse had a field day.
After this story was originally reported by the Washington Post, a Pearce spokesperson accused the Post of "falsely and inaccurately" mischaracterizing Pearce's book.
"This was a piece of either sloppy journalism or wilful intent to deceive," the spokesman said. "The words clearly written show that Pearce believes the phrase 'submission' is widely misunderstood in society and criticizes those who distort the bible to justify male dominance."
While Pearce may not specifically suggest these rules apply to other people, his espousing seems like at least a tepid endorsement. Also, Pearce's not specifically quoting the Bible wouldn't make the situation any better — even if the Bible didn't say it, he did. Furthermore, the words were obviously not "clearly written," otherwise this wouldn't be an issue. 
The GOP has recently had an "exciting" history on women's issues, from rape to pregnancy and all sorts of things in between. Despite this, many feel that the "war on women" is just Democratic-engineered bluster that only serves to cause trouble for the GOP and lie to the American people. Rep. Cathy McMorris Rodgers (R-Wash.) said that Democrats were fabricating this "war on women" to distract the voters from real issues.
But Joan Walsh points out on AlterNet, "Democrats didn't make the GOP presidential field back 'personhood' laws that would criminalize some forms of birth control. They didn't force the newly elected House GOP to make defunding Planned Parenthood their first legislative goal. And they didn't propose the Blunt Amendment that would have allowed employers to withhold health insurance coverage not only for contraception, but for any treatment they disapproved of."
Not only that, but GOP leaders have apparently recognized they have an issue with women, if only in terms of getting their votes. As Politico reports, the GOP has been in serious talks about rebranding themselves in order to avoid another embarrassing "gender-gap" loss repeat of the 2012 presidential election.  
The chair of the Congressional Black Caucus, Rep. Sheila Jackson-Lee (D-Texas), said that the Taliban treats women as "subhumans, fit only for household slavery." Obviously Pearce's words are not going this far, but the slight overlap in language has to make you wonder if Pearce should have been more careful with his word choice.