These 28 Instagram Pictures Just Busted One of the Biggest Mexican Drug Lords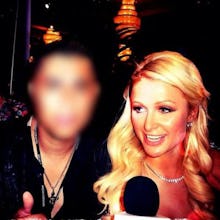 One of the Sinaloa cartel's top enforcers, Jose Rodrigo Arechiga Gamboa, was arrested at the beginning of January in the Netherlands after arriving at Amsterdam's Airport Schiphol from South America.
A violent man with a track record of murder and massive drug deals, he went by the nickname El Chino Ántrax. He's suspected of murdering and hanging three men from a bridge in 2011, and he's so infamous that several narcocorrido folk songs have been written about him.
But just as his name would imply, El Chino Ántrax is a dumbass. So much of a dumbass, in fact, that he flaunted his ill-gotten gains all over Instagram and Twitter in a way that would make Rich Kids of Instagram blush and donate all their Dom Perignon to charity.
The predictable result? Our wannabe Scarface gave investigators all the info they needed to put him away, likely for life.
El Pais noted that "El Chapo, El Mayo and other drug lords are terribly discreet, but not so much as those who surround them, mainly their children and nephews."
Question to cartel wannabe big-shots: What crime movies have you even been watching? Did you see Don Corleon taking a selfie with a stack of heroin? Did Mr. Blonde live-tweet his torture session with that cop? You know what happened to Scarface, right?
A DEA spokesman told the Sunday Times that the pictures were very helpful when investigators needed to "join the dots" on cartel members.
"I would not be doing this if I were them. But then nothing surprises me about what criminal networks do."
Take a gander below (and yes, that is Paris Hilton):
The Twitter feed in question had apparently been compromised by a spambot, in its last confirmed posting.
But as the Daily Mail discovered, someone behind the Instagram feed is still posting photos with El Chino Ántrax's signature ring ... a very dastardly "The End ... Or is it?" indeed.