15 Photos You Haven't Seen of Ukraine's Protest — From Someone on the Frontlines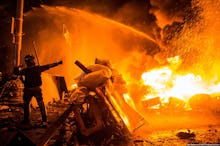 Violent protests against Ukrainian President Viktor Yanukovych's regime have spread beyond the capitol of Kiev. Protesters stormed the offices of the governor of Lviv in the west, forcing him to sign his resignation, while at least five other cities have reported mass disturbances.
In Kiev, a fragile truce has emerged as Yanukovych announced further talks with opposition leaders and called for an emergency session of parliament. But if no resolution is reached by 8 p.m., the protests will renew. Yanukovych may be willing to soften his hardline stance, but opposition leaders emerged from previous talks on Wednesday saying they'd rather brave bullets than accept the government's offer.
Meanwhile, Prime Minister Mykola Azarov sent a clear threat to protesters: "People should not think that the government lacks available resources to put an end to this. It is our constitutional right and obligation to restore order in the country."
Photojournalist Ilya Varlamov has been documenting the protests from behind the opposition lines, walking among the protesters and taking stunning photos of their struggle. Here's some photos he took of street fighting in Kiev.
1. A protester prepares to launch a slingshot against police
Fires rage in the background.
2. The "European Area" — this is the staging ground
Varlamov says this is where protesters receive and distribute supplies throughout Kiev.
3. Hrushevsky Street, where the first barricades were erected
According to government officials, a fire here nearly burnt down the whole residential quarter.
4. Burning barricades have become a staple of the latest protests
These are burning barricades near Dinamo stadium, 100 meters from the first. They were constructed from hundreds of burning tires, and according to Varlamov, blew black smoke directly into the internal troops.
5. The burning tire wall
An unknown figure strolls across the foreground as the tire barricade burns behind him.
6. The battle is relentless
Activists run forward with shields to throw rocks at police, hoping to avoid stun grenades and tear gas.
7. Fueling the fire
A protester runs forward under searchlights to toss more tires onto the barricades, ensuring they burn throughout the night.
8. Building the wall
The protesters work in groups to pile more material on the barricades.
9. Gathering intelligence on police movements
Scouts constantly update protesters on the location of police and their movements and coordinate with activists who throw stones and Molotov cocktails.
10. Water cannons unleashed on protesters in the freezing cold
Interior ministry forces spray ice-cold water at a scout climbing a balcony. According to Varlamov, thanks to the raging fires, those who were drenched dried off quickly and no one got frostbite.
11. This is what the frontline looks like
At the forefront of the protest lines, protesters lob molotov cocktails at police.
12. Fireworks and fire ignite the Kiev sky — and it's beautiful
Varlamov notes that sometimes, the effect of all the action is quite beautiful.
13. Protesters have a catapult
The infamous catapult, which protesters used to lob molotovs, stones, and other projectiles at police.
Mileage may vary:
14. Making Molotov cocktails
Here's where the protesters make firebombs, using petrol or clean kerosene. The technology is obsolete, but the resulting Molotovs are not.
15. Keeping warm in harsh winter
Winter in Ukraine is very harsh. Here, wet and cold protesters stand around a fire to warm themselves before another confrontration with authorities.