5 Times We Used Facebook to Fundamentally Change American Politics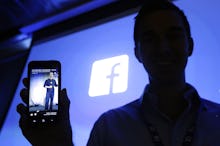 This February marks the 10th anniversary of the social media gateway drug known as Facebook. While the social network has gone through obvious changes since 2004, like going from a site that catered to Harvard students to a site that your parents joined so they can "like" all your status updates, the Book has also played a key role in how major political news is consumed by popular culture — and in turn how we view and shape politics.
In honor of the anniversary on Tuesday, we bring you five defining moments from the last decade that would not have been the same — or perhaps wouldn't have existed at all — if not for Mark Zuckerberg's science project and every one of our likes, updates and activism.
1. We use Facebook to redefine activism, starting with Darfur
It was 2006 when Facebook was open for business to anyone with an email address and a birth date preceding 1993. After we finished "poking" each other and writing Facebook statuses confined to start with "is," Facebook became a great resource to connect students interested in political activism.
At the time, a major cause dominating college student consciousness — and setting the framework for later social media-driven causes — was resolving the conflict in Darfur, Sudan, which by 2010 would claim several hundred thousand lives. The student-led group STAND (the student-led movement to end mass atrocities) formed as a response to the tragic war.
Students across college campuses organized and spoke out about the atrocities we saw. Over the coming year, President George W. Bush spoke out multiple times against the genocide as well and the U.S. leveraged stiff sanctions against the ruling government to help secure a fragile peace deal. 
The Internet and Facebook in particular allowed STAND and others to coordinate activists and generate a call for action. This was one of many early signs that the social network would become integral to social justice movements, particularly those led by our generation.
2. We unlock the power of our voting bloc in the 2008 election
Though the 2008 election is largely characterized by the success of Barack Obama and the question mark that is Sarah Palin, it also represents the first major success story of a politician utilizing Facebook and social media in an effective, all-encompassing way. Merely five years later, it's impossible to imagine a candidate without a social media team kicking ass on Facebook and Twitter.
For many conservatives, Senator John McCain's (R-Ariz.) loss was a wake-up call. At a 2009 College Republican convention, David All, a conservative marketing strategist, remarked, "McCain is now on Twitter and using an iPhone, after the fact. Up until now, Republicans have looked at the Internet as nothing more than an ATM machine."
There was also the major trend of Facebook users inserting their own face on Obama's famous BELIEVE/HOPE campaign art. It was a personalized approach to politics, contributing to a growth in young voter turnout.
3. John Edwards, Eliot Spitzer, Anthony Weiner, David Patraeus and other politicians realize the power of social networks the hard way
It's hard to imagine the days of Monica Lewinsky having been more of a media shitstorm than it already was, but can you imagine the scandal and impeachment trial taking place in the era of Facebook and social media? Or somebody posting a video of Marilyn Monroe singing to JFK with the hastag #sorryjackie?
Since the dawn of Facebook, we've had more than our fair share of political leaders getting in all sorts of sordid trouble, with each scandal going more viral than the last. It's common now to have constant access to every opinion your friends are willing to post online, but if not for Facebook, it's safe to say that popular coverage — and public feedback — of politicians' affairs would have functioned completely differently.
4. We help build Occupy Wall Street and take activism to another level
Before Zuccotti Park, the Occupy Wall Street movement was largely initiated and manifested as an online call to interested parties. In many ways, it exemplified both the positive and negative aspects of social media and The World is Flat mentality. In a matter of days, movements were coordinated everywhere from Oakland to Armenia, and Occupy became a topic that many people first learned of on Facebook. However, the flood of social media coverage left many onlookers confused about what activists were trying to accomplish, and left little room for clear understanding. 
But Occupy got a second wind a year later, when Hurricane Sandy united many of those same activists to form Occupy Sandy, another project hugely orchestrated by Facebook and other social media. The efforts were a major recovery source in New York, and the organization's Facebook page helped other local residents, hoping to give back, to coordinate their own volunteer groups — even if it meant doing so alongside the stereotypically pierced and tattooed Occupiers.
5. We make marriage equality go viral
Remember that day last March when your News Feed was suddenly a long stream of the red Human Rights Campaign logo? What began as a way to show support for marriage equality grew into another facet of the conversation around the debate.
Over two million users reportedly changed their default photo, making public support even more transparent (especially when visualized on a map) and leading to new debates — and parodies — over the efficacy and purpose of using the logo.
While it's true that activists still have a ways to go in taking movements work beyond their computers — an issue often critiqued today when it comes to sites like Change.org or other causes using social media — it's clear that the power of Facebook, and social networks, to create change is incredible. And we're still just getting started.