Prepare Yourself: The First Images of Harry Potter World's Diagon Alley Are Here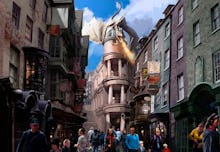 If you, like me, were devastated when you never received your letter to Hogwarts (damn those stupid owls), now you'll at least have a chance to visit the Fifth Avenue of the wizarding world: Diagon Alley. On Thursday, Universal Orlando unveiled digital renderings of their planned expansion for the Wizarding World of Harry Potter — and it looks very magical indeed.
Starting this summer, you can relive the journey that Harry and his pals undertook every year. With a park-to-park ticket, you can travel on the Hogwarts Express from Hosgmeade (which opened in 2010) to Diagon Alley for some back-to-witch-school shopping. Beginning in London, you can hop on the famed Knight Bus (say hi to Stan Shunpike!):
Then you can step into Diagon Alley, the wizarding world's prime shopping district. You can visit Madame Malkin's for your wizarding fashion needs, pick up some parchment and quills at Scribbler's and swing by Magical Menagerie and Quality Quidditch Supplies.
Need to withdraw some Galleons before you start shopping? Just step into Gringotts Wizarding Bank to do business with the goblin bankers, or to explore its perilous vaults. The bank will feature a new ride called "Harry Potter and the Escape From Gringotts" — watch out for unfriendly dragons!
All First Years must begin their shopping with a trip to Ollivander's, a maker of fine wands since 382 B.C. — how can you go to Hogwarts without your perfect wand? 
Wiseacre's Wizarding Equipment has everything you need for your classes, from telescopes to hourglasses.
If you need to take a break from jostling with the crowd, you can step into Florean Fortescue's Ice Cream Parlour and have a taste of the first ice cream that Harry had in the wizarding world (chocolate and raspberry with chopped nuts). For heartier fare, visit the Leaky Cauldron for some fish and chips.
We all have bittersweet memories of our favorite pranksters, the Weasley twins. If you're in the mood for some magical jokes and pranks, step into Weasleys' Wizard Wheezes — just watch out for explosions.
For you Dark Wizards out there, you can also sneak into Knockturn Alley and pick up some cursed trinkets at Borgin and Burkes.
And of course, any shopping trip must conclude with the journey back to Hogwarts. You can visit the iconic King's Cross station and hop aboard the Hogwarts Express. Enjoy the views of the English countryside before you arrive at Hogsmeade Station, which connects you to the current Wizarding World of Harry Potter on the Islands of Adventure. Bon voyage!
Image credit (all): Facebook
Watch the announcement video, which includes appearances from Neville, Fred and Luna, and for glimpses of the Hogwarts Express: