Cop Stops and Frisks Black Teen and Literally Ruptures His Testicles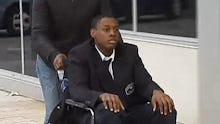 Say what you will about stop-and-frisk as a deterrent to crime, but the practice seems to result in regular incidents of police brutality, and not just in New York. 
On Jan. 7, Philadelphia police stopped high school student Darrin Manning and teammates on their way to a basketball game. Manning, a straight-A student with no criminal record, said that during a pat down, an officer squeezed and pulled down on his testicles with excessive force. "And that's when I heard something pop, like I felt it POP," he said. 
Manning underwent emergency surgery at Children's Hospital during the night following his arrest. His mother said the incident might prevent her son from having children someday. 
It is still unclear as to why police stopped Manning and his teammates that day, although he and his principal, Veronica Joyner, speculate that it was because the boys were wearing scarves on the lower parts of their faces, which she had given them to ward off cold that day. Police counter that Manning never complained of pain while he was in custody, and are still charging the teen with reckless endangerment of another person, simple assault and resisting arrest. 
Manning, 16, said he thinks police officers "went overboard," as do his supporters, who have used the Twitter hashtag #DarrinManning to protest stop-and-frisk and police brutality as it relates to this incident, and in general. This kind of groping is commonly used by police against young men of color in stop and frisk incidents in cities around the country.