How Insane is Our Fascination With Justin Bieber? Just Watch This 25-Second Viral Video.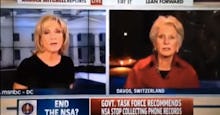 On Thursday, Jane Harman, a former California congresswoman who served on the Intelligence and Homeland Security Committees, took time out of her schedule in Davos to speak to MSNBC about the ongoing NSA scandal.
Unfortunately, her interview with Andrea Mitchell — a journalist with extensive experience covering both the capital and foreign affairs — was interrupted for a far more pressing piece of news, one that stood to shake our republic to its very core: Justin Bieber's arrest.
Here, in its full glory, is a video of that un-Beliebable moment:
Let's recap: Mitchell, a professional journalist, interrupted a former congresswoman to announce that an underage pop star was arrested for driving under the influence. Again: a supposed news channel preempted a topic with profound ramifications for personal privacy, national security and international relations in favor of a useless piece of celebrity news.
Mitchell and MSNBC were not, of course, alone in shunting actual news to the side in order to focus on the disappointing misadventures of one young man. Here's a screenshot of what CNN's front page looked like on Thursday, as compared with that of international news agency Reuters:
Image Credit: Imgur. 
Look, it doesn't have to be this way. We can do better. We don't have to preempt vital discussions about government spying and news about the political upheaval in Ukraine in favor of such nonsense. We don't have to make actual journalists seem as eager and unfortunate as the tweenaged fans who, last August, spent days standing vigil on the block of PolicyMic's offices waiting for a mere glimpse of their smug idol.
Let's be clear: Driving under the influence is a selfish, deadly and criminal behavior, and if Bieber is guilty of it, he deserves to be punished. However, like the murderous clown in Stephen King's It or Kanye West's ego, Bieber's notoriety only grows in power if we buy into it to begin with. Bieber is a child star. The more attention we give to his antics — even to condemn them — the more they're likely to continue.
We don't need to hear about Bieber's bail or court date, or how he's too dreamy to put away, or how despicable he is. In fact, the best thing for all of us — Bieber included — would be to pay attention to just about anything else.
So, just in case you were interested, here's a more complete version of MSNBC's interview with Harman, in which she suggests that NSA spying is "becoming unmanageable" and encourages large firms like Microsoft to keep their data outside of the United States. Watching the video may not seem like much, but every time we click on, share and discuss actual news stories, it actually helps to steer the national agenda in the right direction.