Grammys 2014: 'Yeezus' Deserved Its Album of the Year Snub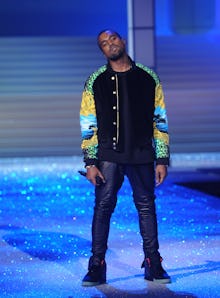 A wave of outrage spread across the Internet when the Grammys announced their nominations and Kanye West's Yeezus was not among those chosen for Album of the Year. Twitter hate and the annual anti-Grammy articles started pouring in. Even Kanye West, never one to have his feathers ruffled, was upset.
At a tour stop in Phoenix, he raged against the Recording Academy: "They try to trivialize my words and try to make it seem like my importance as a musician is less important than what it is ... Now I'm 36-years-old and I have 21 Grammys. That's the most Grammys of any 36-year-old. Out of all those 21 Grammys, I've never won a Grammy against a white artist." All that is false. He's won against Eminem, the Beastie Boys and scores of white songwriters on numerous occasions. Granted, though, he does seem to genuinely care about the Grammys, an increasingly rare feat:
But Yeezus wasn't snubbed because Kanye is black (though the Grammys do show a statistical preference for white artists). Yeezus didn't get nominated because it just isn't that good.
It's a distracted, hasty pudding of sounds forced together in a matter of months because Kanye spent the whole year messing around with Paris fashion shows and Kim Kardashian, neglecting the deadline he had to meet with Def Jam. This rushed production process was revealed by producer Rick Rubin — the genius behind the Beastie Boys Licensed to Ill, the Red Hot Chili Peppers' Blood, Sugar, Sex, Magic and the most hardcore hip-hop beat in existence, Jay Z's "99 Problems" — in an interview with Newsweek: 
"Kanye came over to play me what I assumed was going to be the finished album at three weeks before the last possible delivery date. We ended up listening to three hours of partially finished pieces. The raw material was very strong but hadn't yet come into focus. Many of the vocals hadn't been recorded yet, and many of those still didn't have lyrics. From what he played me, it sounded like several months more work had to be done ... [Kanye] asked if I would be open to taking all of the raw material on and help him finish it." This is likely how they wound up with jarringly assembled songs like "Bound 2."
Rubin joined the team, then two days before the deadline: "We were working on a Sunday and the album was to be turned in two days later. Kanye was planning to go to Milan that night. Five songs still needed vocals and two or three of them still needed lyrics. He said, 'Don't worry, I will score 40 points for you in the fourth quarter.'"
It was only after this information became widely publicized that Kanye started describing the album's raw, unfinished quality as if it was a deliberate choice. He described it in an interview with Charlemagne on the Breakfast Club: ""On Sight" ain't the best version of itself, but it was under a timeline. "All of the Lights" took two years; "On Sight" took four months. If "On Sight" took two years and I listened to it more, you'd have more ... Yeezus is literally a listening session for the world ... it's like I pulled you down and said: 'Yo listen to this. What do you think of this?'"
It's an interesting experimental idea, but given the context it seems less like an experiment and more like a necessity. A listener can hear how rough some of the cuts are. The transitions are ragged and distracting, the instruments constantly change spatial arrangements between sections and the synths don't cement well into cohesive melodic parts. Sure, it sounds angry and exasperated, but it also sounds about half as thoughtful as My Beautiful Dark Twisted Fantasy.
Time, focus, effort and soul are what made Kanye's other albums the masterpieces that they are, and all these are lacking on Yeezus. It's fine that he's moving in an angrier direction, but that anger and frustration deserves just as much attention as familial joy or his excitement to break into the rap game. 
This isn't even the most significant of West's snubs. At the end of the day it comes down to this: if the Recording Academy is not going to nominate My Beautiful Dark Twisted Fantasy or Watch the Throne — two incredible albums that have held up admirably against the ravages of time — for Album of the Year, there is no reason they should even consider nominating Yeezus, which is really just MBDTF's angsty, underdeveloped younger cousin. He's made some of the best albums of the 21st century. This is not one of them.