The #FreeBieber Hashtag is a Slap In the Face to Anyone Who Has Lost Someone to Drunk Driving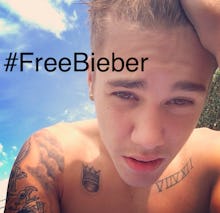 Unless you've been living a rock or actually have decent things to do with your time and life, you've probably heard that Justin Bieber has been in trouble with the law lately. But this time, it's not about throwing eggs at a neighbor's house or sucker-punching DJs. This time Biebs was arrested for DUI and drag-racing during the early hours of Thursday morning after police discovered him incoherent and drugged in Miami Beach.
But Bieber's fans, egged on by rapper Lil Za, have decided that Bieber is being unfairly persecuted. Lil Za posted this message to Instagram:
And Bieber's previous behavior is always justified by his legions of fans, posting typical melodramatic bawling and cries of "No one understands him":
#WeWillAlwaysSupportYouJustin is trending on Twitter, with little gems like this:
There was even a hashtag #CutForJustin (because apparently cutting yourself would provoke the authorities into releasing him), though most users treated it as a joke:
The only problem:
Lil Za is right. This isn't a game. According to the NTSA, 10,322 people were killed and 345,000 were injured in 2012 thanks to drunk or drugged driving. It's an intolerable behavior with an unimaginable social cost, and Bieber's behavior has crossed the line from annoying and out-of-control to flat-out criminal endangerment of anyone in his vicinity.
Take Josh Sundquist's testimony for example:
In reality, there's not much difference between this and the absurd #FreeJahar movement which claimed Boston marathon bombing suspect Dzhokhar Tsarnaev was framed other than the scale of the crime. Or less outrageously Chris Brown's legion of fans, happy to issue death threats to whoever he's currently beefing with. Reprehensible people who happen to be celebrities might lose fans, but the ones that remain just entrench themselves. 
I'll defer to Slate's Amanda Marcotte: "Unfortunately, there's nothing new about this. Every reasonably good-looking, famous criminal can count on getting a fan club of excitable women who justify their affections by denying his guilt or rationalizing his crimes — or both, since we're not talking about rational people here."
And the hysteria around Bieber and other celebrities has a price: MSNBC kicked a former congresswoman off the air to bring viewers BREAKING Justin Bieber news. It wasn't even the arrest. It was his appearance before the judge.