Here Are All the School Shootings That Have Happened So Far in 2014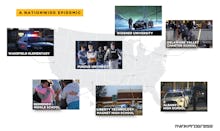 This year is not off to a good start. It's only been three weeks, but it seems like every other day there has been a new report of a school shooting somewhere in the United States – and, well, that's sort of what has happened. 
Out of 14 school days so far this year, a total of seven school shootings have occurred. That's an average of one every two days. Uhg.
The folks over at ThinkProgress have put together a depressing new graphic that shows just how rough these first few weeks of 2014 have been.
Source: ThinkProgress 
We haven't even made it through the first month of 2014 and we already have one quarter of the amount of school shootings in 2013. America can't possibly keep this pace up, can it?
Here are the seven shootings so far this year, ranging from elementary schools to universities:
Liberty Technology Magnet School, January 9: one student shot
Berrendo Middle School, January 14: two students shot
Albany High School, January 17: one student shot
Delaware Valley Charter Elementary, January 17: two students shot
Widener University, January 20: one student shot
Purdue University, January 21: one person shot and killed
Wakefield Elementary, January 21: one person shot