Watch Leonardo DiCaprio's Surprise 'SNL' Cameo From Last Night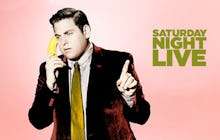 Jonah Hill is a hilarious guy and last night was his third time hosting Saturday Night Live — with that information in mind, you would think this episode would be money. Unfortunately, the show was a little more of a roller coaster ride than expected, with a few sketches that fell flat but also some absolutely giggle-worthy moments. Arguably the best moment of the night came when Leonardo DiCaprio (cue teenage girl squeal) popped in for Hill's opening monologue:
The night also had some big successes with other topical sketches. Fun was had taking down the upcoming Sochi Olympic games, which is something we can expect to see a lot more of from SNL and the other late night shows in the next few weeks. If you feel like having a socially relevant giggle, Kate MacKinnon's hilarious Weekend Update character 'Olya Povlatsky' and the 'Heterosexual Men's Figure Skating' cold open are both worth a watch.
The other highlight was this video sketch, where thugs out on a hit bask in the glory of winter and Carole King. It walks a fine line between adorable and disturbing, but certainly leaves an impression.
Unfortunately, the astute reader will notice that none of these sketches feature Jonah Hill except the monologue, where he's not even the star. It's hard to say what happened here, but all of his sketches simply left something to be desired. Maybe, for Hill, the fourth time's the charm.