Scarlett Johansson's Quotes About Israel-Palestine Went Viral. Here's Why People Are Angry.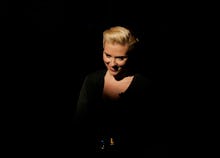 Scarlett Johansson has managed to unwittingly embroil herself in an international conflict.
The actress recently made headlines by becoming a brand ambassador for the Israeli-owned company, SodaStream. The problem? SodaStream sits directly on top of one of the most controversial settlements Israel illegally occupies. In Johansson's response to the controversy, she proves to be clueless about the entire situation.
The settlement, Ma'ale Adumim, lies eight miles from Jerusalem and serves as a jumping off point for development of the enormously controversial E1 area, which would arguably make a two-state solution impossible if settled. While looking at the map below, one can see the problem:
Should the realization of a two-state solution come to pass, the West Bank would become a Palestinian state. However, as one can see from this map, fully settling the E1 area along with building the proposed security barrier around it and the easternmost Israeli settlements would make a contiguous Palestinian state almost impossible.
Not only does Ma'ale Adumim have municipal jurisdiction over the E1 area, but the settlement's existence so far east of Israel's legally recognized border is a block to any peaceful solution to the conflict. The owners of SodaStream know this, and they built their factory anyways. While Scarlett Johansson may not have known it, to release a statement like hers in response to the controversy is irresponsible at best, plain stupid at worst.
In her defense, she does mention that she supports a two-state solution; nothing really revolutionary there. But she makes glaringly baseless assumptions in other parts, and her lack of education on the conflict shows. For instance, Johansson stated that,
"SodaStream is a company that is not only committed to the environment, but to building a bridge to peace between Israel and Palestine, supporting neighbors working alongside each other, receiving equal pay, equal benefits and equal rights. That is what is happening in their Ma'ale Adumim factory every working day."
Given the fact that she has never actually visited the factory, to make that assumption is irresponsible, but typical of actors who decide to "get involved" in the plight of the less fortunate without actually engaging in many of the deeper issues.
Johansson went on to say that:
"Even though it is a side effect of representing SodaStream, I am happy that light is being shed on this issue in hopes that a greater number of voices will contribute to the conversation of a peaceful two-state solution in the near future."
The ironic part is that the existence of SodaStream's factory in the Ma'ale Adumim settlement is an enormous barrier to the realization of that goal.
If Johansson (or her PR person) understood the dynamics of the conflict, she would realize that allowing Israeli-owned businesses to operate in illegal settlement territory perpetuates the inequality between Arabs and Jews there on a macro level.
It doesn't matter that SodaStream may in fact be a great place to work or that Arab Muslims get equal treatment or make good money. What matters is that a company is choosing profits over peace, that it is perpetuating a long-standing problem on unfair treatment and that it is completely aware of the situation while turning a blind eye, no matter what kind of positive spin they try to put on it.