Pharrell's Grammys Hat is His Most Significant Contribution to Music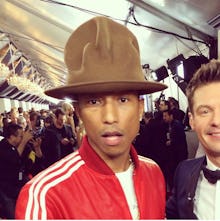 In a year when he gave the world "Blurred Lines" by Robin Thicke, "Get Lucky" by Daft Punk, "Get Like Me" by Nelly, and "BBC" by Jay-Z, it seems Pharrell's most important contribution to music is the hat he wore to the Grammys.
Image Credit: Twitter
This could be a reflection of the sad state of popular music, but, really, it seems pretty justified. It's a really weird hat. Within minutes of its appearance at the Grammys, it had its own Twitter and was one of the most tweeted-about occurrences of the night. Here it is again looking really fantastic:
Image Credit: Twitter
It's also given some pretty great fodder to the funny people of Twitter. Some of the best responses thus far: 
Neil Patrick Harris rightly observed that Pharrell looks like Smokey Bear:
Lena Dunham commented on the hat's sheer size:
As did Jesse David Fox.
And Ronan Farrow brought up the rear with the Harry Potter comparison.
Meanwhile, the hat's personality is slowly developing on Twitter. Currently, the hat has 1,474 followers and counting. It began its life as a popular Twitter presence with a pretty indecisive:
But has since come into its own as a classically bashful superstar:
Nobody can say how the hat's public personality will evolve from here, but I think everybody is excited for its Best New Artist award at the 2035 Grammys.
Correction: Jan. 26, 2014
An earlier version of this article misidentified Pharrell as the producer of "Get Lucky." The producer of "Get Lucky" is Daft Punk and Nile Rodgers.