Watch Beyoncé and Jay-Z Open the Grammys With 'Drunk In Love'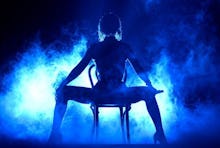 Beyoncé and Jay Z opened the 56th Grammy Awards with a very, very sexy performance of "Drunk In Love." Bey had wet hair and danced around in a chair a la Flashdance, and it was predictably amazing. Can she just open every awards show from now on?
"Drunk In Love" was released as part of the singer's surprise self-titled album back in December. It serves as a sort of sister to "Crazy in Love," which was her first number-one single as a solo artist (and, of course, also features Mr. Knowles).
Unfortunately Beyoncé (the album) was released too late to qualify for this year's awards ceremony, but her performance reminds us that Bey doesn't need a Grammy to prove that she is, and will always be, the Queen.