Daft Punk Just Gave the Best Grammys Performance of 2014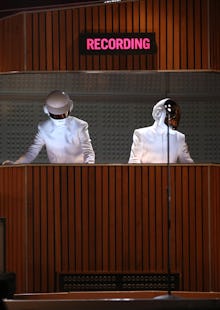 First, let's acknowledge that Pharrell came onstage in a different hat, thus sending social media into a tailspin.
Now, let's acknowledge that, in a year when Daft Punk set out to "Give Life Back to Music," they've done just that. This was an unbelievably tight, funky performance helmed by Stevie Wonder, Pharrell, and the robotic duo in a stage set like a vintage recording studio.
Pharrell's straightforward delivery is perfect for the song, but Stevie Wonder's verse was even better suited to the song's soul heritage:
Meanwhile, Daft Punk had their big reveal midway through the song. They appeared in the tinted recording booth in their classic robot helmets with white suits and gloves to match. They looked more than a little like Storm Troopers.
In typical Daft Punk fashion, they broke it down with a "Harder Better Faster Stronger" sample, recalling their previous Grammys performance with Kanye West in 2008:
Meanwhile, the audience got pretty ecstatic. Even Paul McCartney was snapping his fingers; Ringo clapped along; and Yoko Ono, ever the iconoclast, pointed in random directions. An unidentified man in the front row played air bongos feet above his head.
And then Stevie Wonder played the crowd out with "Another Star" off 1976's Songs in the Key of Life.
With Stevie Wonder presiding and Lorde following with a win for Best Song, it seems music is alive and well.