Listen to the Young Artist Making Country Music More Progressive Than Ever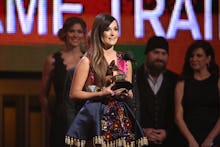 Kacey Musgraves won the Grammy Award for Best Country Album. This is big: Musgraves is a 25-year-old singer from Texas whose album "Same Trailer Different Park" shuns stereotypical country topics to talk about things like sexist double standards, atheism and marijuana.
Country is usually thought of as one of the most conservative genres of music, but Musgraves is part of a progressive new generation of artists who are redefining what the genre can mean. Her work presents disillusionment with many of the traditional values peddled by country songs. 
Just look at her bouncy hit "Follow Your Arrow," performed during tonight's show: The song is about being yourself, and uses some clever tongue-in-cheek lyrics to address everything from homophobia to smoking pot (lyrics include: "Make lots of noise / Kiss lots of boys / Or kiss lots of girls, if that's something you're into / When the straight and narrow gets a little too straight / Roll up a joint, or don't / Just follow your arrow wherever it points"). It's basically a great big "fuck you" to double standards and bigotry. 
Musgraves' stunning "Merry Go Round," which beat out the likes of Taylor Swift and Miranda Lambert for Best Country Song tonight, is another that flips traditional country teachings on their head (incidentally, Musgraves co-write "Mama's Broken Heart," the spunky song for which Lambert was nominated in the same category).
In "Merry Go Round," Musgraves expresses her doubt about things like motherhood and marriage — a pretty revolutionary act coming from a young, female country singer. She sings, "If you ain't got two kids by 21 you're probably gonna die alone / At least that's what tradition told you" and "We get bored, so, we get married / And just like dust, we settle in this town."
Musgraves' songs feature real emotion, superb storytelling and thoughtful introspection. This is the future of country music. Congrats Kacey!