The 7 Least Expressive Daft Punk Moments From the 2014 Grammys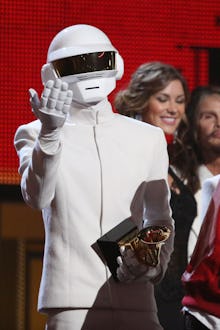 When Smokey Robinson encouraged Berry Gordy to start Motown in 1959, he had no idea what the future would hold. He could never have guessed that in 2014, he'd be onstage at the Grammys honoring two Frenchmen dressed as robots who were famous for a song that sounds a lot like Motown from the 1970s.
Even in the 21st century, it all looks pretty strange. During an evening when everyone is exceedingly overt about their emotions, having the Daft Punk duo refuse to speak even as they sweep the highest awards in music is more than a little incongruous.
It's also hilarious. Here are Daft Punk's least expressive moments from the 2014 Grammys:
1. Accepting the Best Pop Group Performance Grammy.
Here they seem to be listening attentively to Pharrell, rather than mocking his hat like the rest of the Internet.
2. Winning Record of the Year.
Notably, they seem to have different helmets to match different outfits.
3. Playing "Get Lucky" with Stevie Wonder and Nile Rodgers.
It kind of looks like they're pitying Pharrell for being so into the song, emotionally.
4. Finding out they won Best Record.
The camera's swoop towards the awkward robotic duo sort of distracts from the fact that they look less excited about their win than Robin Thicke does about his loss.
5. Jamming with Stevie Wonder.
In this GIF, as in all GIFs of Daft Punk, you can't tell how they're feeling because they're wearing helmets. Robot helmets. Theoretically, they're enjoying this stellar performance of "Get Lucky" with Stevie Wonder, but we can really never be sure.
6. Winning Album of the Year.
Potentially expressing enthusiasm about their series of Grammy wins. They could also be communicating telepathically. Or in binary, which, contrary to what LL Cool J said at the start of the ceremony, is actually the universal language.
7. Handing off their Album of the Year Grammy.
As if to say, "Here, you humans seem to value gold more than we do."
Certainly they have a lot more of it now.