The 7 Most Unbelievable Snubs From the 2014 Grammys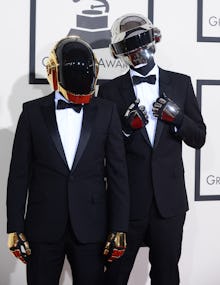 Before Metallica killed Napster, they once lost a Best Metal Performance Grammy to a band known for its flute solos. In other words, The National Academy of Recording Arts and Sciences has a long history of giving awards to the wrong people. This year, as you might imagine, was no different. Here is just a small sampling of some of the noteworthy head scratchers.   
1. Album Of the Year went to "Random Access Memory" instead of "Good Kid, M.A.A.D. City."
"Get Lucky" is a perfectly-formed, pop-infused disco song that deserves all the accolades it gets. It's a rare earworm that people don't mind having in their heads. That being said, the album Random Access Memory does not always reach the same heights as the lead single.
Kendrick Lamar's Good Kid, M.A.A.D. City deserved this award for deftly weaving together a raw and unflinching story that challenges the listener. At a certain point, the academy has to recognize rap in the major categories, and with Kendrick's instant classic, this should have been the year.
2. Song of the Year went to "Royals" instead of "Same Love."
Subversive and chilling, Lorde's "Royals" is a fresh song that creates a strong distinction between her and many other younger artists today.
So then why did this award deserve to go to Macklemore? Ben Haggerty, the guy with the best rap song about baseball, is not the most technically gifted rapper. To be honest, he probably robbed Kendrick of a lot of golden sippy cups last night. But, "Same Love" is a beautiful love song with an important message and it straight up should have been rewarded.
3. Best Pop Vocal Album went to "Unorthodox Jukebox" instead of "The 20/20 Experience."
Unorthodox Jukebox is a more-than-serviceable album from the man who will be performing at the Super Bowl's halftime show. With his latest outing, Bruno Mars created a slew of singles that played on the radio. 
But The 20/20 Experience shot for the stars. Maybe it's Justin Timberlake-fatigue that compelled the academy to mostly ignore the album. Yes, some songs were a little long, but just know that if the former N'Sync member goes away for another seven years the Internet will know who to blame.
4. Best Rock Album went to "Celebration Day " instead of "...Like Clockwork."
It feels weird to give an award to a band for an album that was made five years ago, even if that band is Led Zeppelin. Celebration Day was recorded while at London's O2 Arena in 2007.
It would have been nice to recognize Queens of the Stone Age, who put together a critically-acclaimed album that also debuted at No. 1. It's not like Led Zeppelin really needs the positive reinforcement.
5. Best Song Written for a Visual Media went to "Skyfall" instead of "Young and Beautiful."
Yes, I know Adele can do no wrong. Really this snub has more to do with the importance of Lana Del Ray's song "Young and Beautiful" and the movie in which it was featured. "Young and Beautiful" evokes The Great Gatsby instantly. Just one verse and listeners are sure to remember Leonardo DiCaprio desperately trying to make the phrase "old sport" happen.
6. Best Alternative Album - Modern went to "Vampires of the City" instead of "Trouble Will Find Me."
The third studio album, which debuted at number one on the Billboard 200, from the guys who made singing about an "Oxford Comma" cool (or not as embarrassing as it should be), were rewarded for their critical and commercial hit album.
Unfortunately, that meant that The National's album Trouble Will Find Me was overlooked. While it's true that The National rarely deviate from their sound, the stories they tell and the emotions they can conjure are often some of the most palpable in music today.
7. Best Rap Song went to "Thrift Shop" instead of "Started from the Bottom."
"Thrift Shop" is a funny novelty track with a great saxophone loop. It's fun, it's catchy, but it's not the best rap song.
How about showing some love to the former Degrassi actor? Drake's song "Started from the Bottom" is a sports arena mainstay and an anthem for people who cherish their friends.