The Macklemore Mass Wedding Was About Love, Not Politics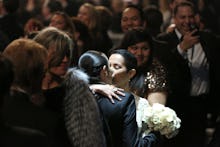 Sunday night's most memorable line was not projected from a microphone onstage or scripted into LL Cool J's opening monologue. It was whispered 68 times, simultaneously, by 34 couples. Even as the roar of the crowd made this repeated phrase inaudible to television audiences, the collection of "I Do's" muttered on the center aisle of the Staples Center will become the defining moment of last night's awards — and perhaps many award shows to come.
The 56th Grammy Awards delivered its usual entertaining and eclectic mix of performances last night, ranging from progressive pairings to classic combinations. The show was enjoyable, if relatively uneventful. Things happened of course — Beyoncé and Jay-Z opened the show and Pharrell sported a comically large hat — but these events were hardly meaningful.
For about its first three hours, the Grammys lacked a singularly impactful frame — that is, it lacked an especially funny line, a surprisingly poignant acceptance speech, some moment that would make a lasting impact in the collective social consciousness. Then Macklemore and Ryan Lewis took to the stage for their performance of "Same Love," and everything changed.
A moment like this deserves to not be politicized.
The performance was accompanied by a mass marriage ceremony, presided over by Queen Latifah and featuring couples of all races, ages and sexual orientations. Even Madonna was there to add a surprise verse of her own. The big moment we'd been waiting for all night had finally arrived.
"Same Love" evolved into something of an anthem for gay rights during its sudden rise in popularity over the past year, and the lasting image of last night's performance rubber stamps the song's legacy as such. But along with the progressive political message espoused by the lyrics, the performance should be ultimately remembered for what it was: a collection of organic and private moments that just so happened to be shared with millions of people.
The debate about how politically meaningful this performance and this song actually are to the gay rights movements can still be had, but a moment like this deserves to not be politicized, at least for a while. It deserves to be remembered as one of the most moving moments in Grammy history, and a testament to the power of music to bring people together.