Behind The Scenes: Meet The 'Marlboro Man' Who Died Of Lung Disease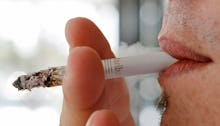 On Sunday, Eric Lawson, the actor who portrayed the iconic 'Malboro Man' in the late 1970s, died of respiratory failure due to chronic obstructive pulmonary disease (COPD), a smoking related disease. After appearing on TV shows like Baretta and The Streets of San Francisco, Lawson was hired to appear in print Marlboro ads from 1978 to 1981. During his career, he also acted in hit TV shows such as Charlie's Angels, Dynasty and Baywatch.
In 1954, the advertising agency Leo Burnett Worldwide conceived The Marlboro Man to attract men to the Marlboro filtered cigarette, which until then were considered feminine and only marketed to women. Lawson is not the first Marlboro man to succumb to lung-related disease — Marlboro men Wayne McLaren and David McLean died of lung cancer, and David Millar died of emphysema in 1987.
Lawson eventually came out in opposition to cigarettes. While he was still smoking. He appeared in an anti-smoking commercial parodying the Marlboro man and appeared on Entertainment Tonight to discuss the negative effects of tobacco use, even though he was smoking at the time and continued until he was diagnosed with COPD. "He knew the cigarettes had a hold on him," Lawson's wife Susan said. "He knew, yet he still couldn't stop." COPD is a collection of lung diseases including chronic bronchitis, emphysema and chronic obstructive airways disease. The most common cause of COPD is smoking.
Cigarette advertising reached its peak in 1985 with $932 million in media spending, but has been steadily declining since according to Ad Age's DataCenter's analysis of the Federal Trade Commission's annual cigarette reports. In 2011, media spending was just $26.9 million. Now, Big Tobacco and their media campaigns are looking at e-cigarettes — a $1 billion dollar business in 2013 — as the next big thing. Right now, e-cigarettes remain unregulated and threaten to undo much of the work done to ban smoking in public places.
The Marlboro man was rugged and handsome — a relic of old American masculinity. But today he is just a statistic, one of the five million people worldwide dead because of cigarettes. Lawson was 72 and had six children, 18 grandchildren and 11 great-grandchildren.
Watch below Malboro's ad in 1970 starring Lawson: