This Company Claims to Be Broke, While Keeping Millions in Offshore Accounts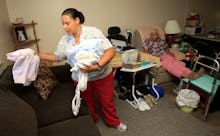 What is a not-for-profit corporation doing with nearly $200 million in offshore holdings? That's a question thousands of nurses who are preparing to go on strike, together with their patients, might want answered.
The nation's largest home-care provider, Visiting Nurse Services (VNS), is locked in a battle with the nurses over their contract. VNS wants to make dramatic cuts to employee benefits because management claims the company is $70 million in debt. However, a close look at its tax returns tells a much different story.
Last week, the United Federation of Teachers, which represents the caregivers, notified VNS of plans to walk out when their contract expires on February 1, unless an eleventh hour deal is struck. The central issue is attempts by VNS to eliminate nurses' health care and pensions, according to sources briefed at an emergency union meeting.
"I don't want to go on strike," said one nurse speaking on the condition of anonymity, since her current contract forbids her from speaking to the press. "I've got bills to pay, a kid to raise. But I also don't want my daughter to lose her health insurance."
Management has explained to staff that VNS is $70 million in debt and cuts are necessary. But a review of the company's tax returns indicates that VNS has hundreds of millions of dollars stored offshore.
In 2011, the most recent year figures were available, the not-for-profit corporation had $177,992,056 in Central American and Caribbean investments. That same year, the filings show that the company's then-CEO, Carol Raphael, took in more than $1.1 million in total compensation.
Another VNS executive, Christopher Palmieri, charged with overseeing the VNS-NY Choice Health Plans program, cost the company $33.6 million in a medicaid reimbursement scandal last year. Five hundred people were laid off as a result. Palmieri, who drives a Porsche, is still on the the company's payroll.
Though management will see to VNS's sickest, should a walkout occur, it will likely disrupt treatment for thousands of patients. However, the nurses say the looming strike is also about those they care for.
"Patient care is suffering," said the anonymous VNS employee, adding that she often works nine days in a row visiting and treating severely ill patients, some of whom live in squalor and suffer from drug and alcohol addictions or schizophrenia. "We're overworked and understaffed. They want to take away our health care and pensions while grinding us to death."
VNS declined to comment on its finances and the ongoing labor dispute with the nurses' union.
With approximately 3,500 nurses, rehabilitation therapists and social workers on staff, VNS is the largest home-health employer in the country. The outcome of the brewing labor dispute will likely set a precedent for compensation and treatment in the health care industry overall.