Is This Device "The Next Big Thing?" Two Huge Tech Companies Seem to Think So.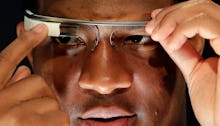 The news: Move over, Google Glass. You're no longer an exclusive.
Say hello to Samsung's Galaxy Glass, which could potentially make its debut at the IFA trade show in Berlin as soon as September.
"The reason is simple. The market potential for smart glass is huge. It will be used in trucks, [and] cars and has a greater impact on related industries such as glass- and coatings-makers," an unnamed Samsung official has told The Korea Times.
He continued: "The new smart glass to be introduced by Samsung is a new concept of wearable device that can lead to an exciting culture of communication. The smart glass will present our aim to lead the new market with proven capability. Wearable devices can't generate profits immediately. Steady releases of devices are showing our firm commitment as a leader in new markets."
According to The Verge, the tone of the disclosure is pretty similar to what preceded their Galaxy Gear smartwatch announcement, indicating that Samsung is trying to achieve "first-mover advantage in the wearable sector, disregarding how profitable those early efforts may be."
How it will affect the market: The move increases the pressure on companies like Apple to get into the wearable market before its competitors corner the early adopters entirely. Apple has long been rumored to be working on an iWatch, but hasn't announced any product.
According to Quartz, "Apple is at the crossroads. Investors will scrutinize the holiday sales trends for high-margin iPhones and iPads, but more broadly the question is whether the company's quarterly results will be seen as 'a shift to sustainable growth, a pause before the next big thing, or the end of a high-flying era.'"
Google and Samsung, meanwhile, recently struck a "global cross-license deal for existing and future patents for the next 10 years," paving the way for less litigation, more collaboration, and a focus on innovation and research. Apple is not a partner in the agreement, putting more pressure on them to out-compete both Samsung and Google.
The bottom line: The competition is heating up, but wearables aren't anywhere near ready for mass-market consumption yet. Outside of aficionados and techies, they're poorly understood, and the expected high price tags will keep most consumers out of the market. This is a war for early adopters, and there's plenty of time for things to change.