6 Young Asian-American Filmmakers Who Are Shattering America's Asian Film Bias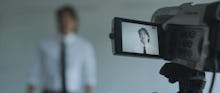 From yellowface on How I Met Your Mother to #NotYourAsianSidekick, the portrayal of Asian people in the American media has been igniting the Asian-American blogosphere recently.
Lucy Liu and Maggie Q are always mentioned as success stories, but the reality is that the entertainment industry continues to reduce people of Asian descent to insulting caricatures like the villain, kungfu master, nerd or sexy dragon lady. As the Huffington Post's Andrew Lam argues, Asian-Americans may be taking over YouTube,  but when it comes to the big screen a "bamboo ceiling" exists.
There are a few household names in Asian-American filmmaking, like Taiwanese-American directors Ang Lee (The Life of Pi, Brokeback Mountain, Crouching Tiger) and Justin Lin (Fast and Furious 6). But a new generation of young Asian-American filmmakers is stepping forward more than ever to change America's perceptions of Asian people, by introducing some much needed depth and a broader emotional spectrum to Asian-American characters.
A still from Steven J. Kung's 'A Leading Man'
The six filmmakers highlighted here have won awards and received critical acclaim in film festivals across the country. These artists work with a variety of cinematic techniques and genres, ranging from drama to short biopics. Some of their films are light-hearted, while others are deeply introspective. But all of them challenge Hollywood's one-dimensional portrayals of Asian people.
Together, these filmmakers are demonstrating that there is not one specific "Asian-American experience," but rather an array of different stories that deserve to be told. Moving beyond the immigrant narrative and complicating perceptions of Asian people as the "model minority," this generation of millennial filmmakers is creating a new space for Asian-Americans in the entertainment industry. And though their work has yet to be recognized by the mainstream media, it's a positive step towards rectifying all the negative media imagery of Asian people that currently exists — and we all should pay attention.
1. James Z. Feng
From breaking down the "model minority" myth to bringing layered complexity to the traditional Chinese practice of martial arts, Chinese-American actor and rapper James Z. Feng has a lot to offer the entertainment world. His directorial debut took place in China in 2007 with the award-winning 600, a memoir-like short film starring himself as an American expat who grows disillusioned with his futile job as an English teacher in Shanghai. Feng revisited this theme of questioning life decisions with 2009's Drowning, in which the protagonist rebels against his mother's wishes by choosing to become a cartoonist. There's a good dose of gang violence and drug use too.
However, Feng is most famous for his documentary Fight Life (2012), which was picked up by Double Dutch Media. The film dispels the simplistic notion of mixed martial arts as a violent, testosterone-fuelled sport, portraying it instead as both an art and a labor of love.
2. Tze Chun
Hong Kong-Singaporean-American filmmaker Tze Chun's debut film Children of Invention, which screened at the 2009 Sundance Film Festival, is about a "subculture of Americans" who must resort to illicit means in order to achieve the American dream. Inspired by his own family's story, the drama revolves around two young siblings who are left to fend for themselves on the streets of suburban Massachusetts when their mother disappears as the result of involvement in a Ponzi scheme.
The deeply moving film presents a critical look at what happens when this secret criminal world clashes with the struggles of an immigrant family trying to make ends meet. And not only are the child protagonists adorable, but they're also street savvy, rivaling Macaulay Culkin in Home Alone.
3. Andrew Ahn
Understanding that it can be difficult to get Asian-American audiences "super excited" about any film, Korean-American filmmaker Andrew Ahn is known for shocking and provoking his viewers. He used the premiere of his short film Dol at the 2012 Sundance Film Festival to reveal to his parents that he was gay. The film, which contains only a smattering of Korean dialogue, centers on Nick and his partner Brian's life in Los Angeles's Koreatown. After attending his nephew's "dol," or Korean first birthday celebration, Nick realizes the impossibility of coming out to his family and raising a child with his boyfriend. In a few short minutes, Ahn manages to show how the everyday ordeals and decisions that an Asian-American faces can be the same as anyone else.
4. Steven J. Kung
A Leading Man, directed by Chinese-American filmmaker Steven J. Kung, confronts racism in the entertainment industry head on. Forced to play the role of a Chinese eunuch with a long braid and thick accent on a TV sitcom, the protagonist Guoqiao ("GQ") wrestles with a problem that almost every Asian-American actor has faced: how to advance your career without having to perpetuate a racist stereotype on screen. The film, which screened at the Hawaii International Film Festival and Austin Film Festival in 2013, also touches upon how Asian-American actors are often dissuaded by family and friends to go into show biz for this very reason. A Leading Man speaks to any Asian-American in the entertainment industry trying to break the bamboo ceiling.
5. Timothy Tau
Taiwanese-American fiction writer-turned-filmmaker Timothy Tau has always found his cinematic muse in 1940s film noir. His short biopic about Keye Luke, who played the first Kato in the Green Hornet series from 1939-41, premiered at the Seattle Asian American Film Festival in 2012. Keye Luke stars Feodor Chin as the film's subject, with CSI's Archie Kao as Wing Luke, Keye's brother.
Although not as famous as co-star Anna May Wong or the more renowned Kato, Bruce Lee, Keye Luke was one of the first Asian-American actors to land "good guy" roles while others were still being cast primarily as Fu Manchu-type villains. Tau draws out a certain nostalgia for 1940s Hollywood glamour through witty and humorous characters like Edwin Luke. The film also brings to life Keye Luke's gentlemanly charm, rupturing perceptions of Asian men as socially awkward, evil or effeminate.
6. Raymond Chu
As a surrealist fantasy that traces the adventures of a young George Lucas and his friends Steven Spielberg and Francis Ford Coppola in the 1970s, American Odyssey has nothing to do with Asian-American themes. But that fact in and of itself reveals how Taiwanese-American filmmaker Raymond Chu has found it liberating to not be constantly producing work that is specifically about the "Asian-American experience." A native New Yorker, Chu told the Examiner that the title of his film implies that he makes "American" movies, and that his interests are not solely Asian-American. Chu's attitudes reflect a growing tendency among many young Asian-American filmmakers to start writing and directing films that are not necessarily about Asian-Americans. Of course, Chu's upcoming film about the relatively unknown criminal underworld of Doyers Street in 1930s New York Chinatown also sounds pretty intriguing.