Watch the Music Video Making History - Made Entirely of Six-Second Vines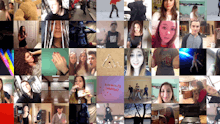 For the first time ever, Astronauts Wanted, a new joint venture between former MTV networks CEO Judy McGrath and Sony Music, have produced a music video composed entirely of Vine videos. Six seconds here, six seconds there — you get the idea.
Ultra, purveyor of the electronic dance festival held yearly in Miami, enlisted popular DJ DANK to remix the song "Crystals." The track provides backing for the so-called #Ultravine, featuring some of the world's most popular Viners, like Robby Ayala, Lele Pons, and Cody Johns.
True to their tagline — "no experience necessary" — the producers culled many of the snippets from fans around the world. It's normal kid stuff, dancing in bedrooms, singing into bathroom mirrors, and messing around at the mall. As McGrath told the New York Post, Astronauts Wanted is hoping "to find some new ways to reflect the creativity of a new generation."
This video, made in collaboration with Ultra and the creator network Niche, seems to hit the mark.