Pharrell's Grammy Hat Was Actually an Amazing Cultural Reference, Guys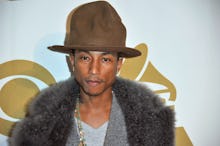 Pharrell Williams' Grammys hat is the newest award show-inspired meme taking over the Internet. It inspired a parody Twitter account, gave Arby's a golden advertising opportunity and spawned on a flurry of snarky Smokey Bear tweets.
But Pharrell, the winner of four Grammys this year, doesn't do many things without good reason. As it turns out, the hat making waves on the Internet was a reference to the 1982 hip-hop music video of the song "Buffalo Girls" by Malcolm McLaren and the World's Famous Supreme Team.
"Buffalo Girls" actually has a long history in the U.S. Originating in 1844 as the song "Buffalo Gals" performed by Blackface minstrel singer John "Cool White" Hodges, McLaren eventually found the tune and decided to put his own spin on it in 1982. Later, McLaren's version was sampled by rapper Neneh Cherry in her '88 chart-topping single "Buffalo Stance," where a similarly styled hat makes a few cameos. 
Pharrell's exact hat, though, has a history all it's own. It was designed for Vivienne Westwood's autumn/winter 1982/1983 collection. At that time she was dating McLaren. It was made especially for Westwood's first store, World's End. A few years ago, Pharrell purchased the hat, which has several names including the Buffalo Hat, the Mountain Hat and the Jelly Mould Hat, from Westwood's World's End for 95 pounds.
So, yes. the Smokey Bear hat we've been laughing at all week is much less random and much more culturally relevant than anyone realized during the Grammys.
Of course, culturally relevant or not, the hat has given something great to the Internet: awareness of the Arby's Twitter account.