Super Cool Librarians Name 10 Best Feminist Books of 2014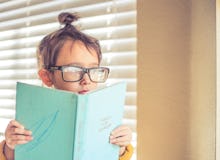 On Sunday, the Amelia Bloomer Project released its list of the top 10 feminist books of 2014. The list is a great tool for librarians, parents and anyone else who's sick of recommending only books with svelte, white "strong female protagonists" (lookin' at you, Katniss) to young feminists.
The Amelia Bloomer Project was created by the American Library Association's Feminist Task Force (awesome that this exists). Every year, the project rounds up the best feminist books for young readers ages zero to 18. The list features a stellar combination of biography, history and memoir of some of the most role model-worthy women of the past century — complete with kid-friendly illustrations and language.
Image credit: Macmillan
As the project puts it:
"Feminist books for young readers must move beyond merely 'spunky' and 'feisty' young women ... Feminist books show women overcoming the obstacles of intersecting forces of race, gender, and class, actively shaping their destinies. They break bonds forced by society as they defy stereotypical expectations and show resilience in the face of societal strictures."
The list is all the more critical in light of women's continued under- and misrepresentation in the literary world; women undeniably earned some major literary wins in 2013, but stats garnered by VIDA: Women In Literary Arts reveal that the playing field remains far from level. Women still are wildly underrepresented in the publishing industry, making up only 10-35% of authors covered in major book reviews and 25-40% of overall contributions to literary magazines.
Image Credit: VIDA
And beyond sheer numbers, the sexist expectations of likability and levity commonly thrust upon both female authors and their characters continue to belittle women's literary work. Given that kids are taught these stereotypes pretty much from birth nowadays, the importance of a project that takes care to present young girls (and boys!) with diverse images of strength and power in literature can't be overstated. 
Here is the project's list in full:
1. 'Flying Solo: How Ruth Elder Soared into America's Heart'
Image credit: Macmillan
By Julie Cummins and illustrated by Malene R. Laugesen.
2. 'Rookie Yearbook Two'
Image credit: Rookie
Edited by Tavi Gevinson.
3. 'Global Baby Girls'
Image credit: Global Fun for Children
By the Global Fund for Children.
4. 'Brave Girl: Clara and the Shirtwaist Makers' Strike of 1909'
Image credit: Harper Collins
By Michelle Markel and illustrated by Melissa Sweet.
5. 'However Long the Night: Molly Melching's Journey to Help Millions of African Women and Girls Triumph'
Image credit: Tostan
By Aimee Molloy.
6. 'Double Victory: How African American Women Broke Race and Gender Barriers to Help Win World War II'
Image credit: Barnes and Noble
7. 'The Good Girls Revolt: How the Women of Newsweek Sued Their Bosses and Changed the Workplace'
Image credit: NPR
By Lynn Povich.
8. 'What Will It Take to Make a Woman President?'
Image credit: Amazon
By Marianne Schnall.
9. 'Profiles: Freedom Heroines'
Image credit: Scholastic
By Frieda Wishinsky.
10. 'I am Malala: The Girl Who Stood Up for Education and Was Shot by the Taliban'
Image credit: Hachett
By Malala Yousafzai with Christina Lamb.